By now, we all know that LinkedIn is the place to go to find sales leads for anything corporate. This isn't just a DJ thing, of course… LinkedIn is a treasure trove of leads, and gets visited by salespeople millions of times per day.
For power users, there's a problem, though… that of regular accounts being "throttled" by LinkedIn from the ability to search for customer prospects all day. For any of you who are in big cities and are aggressive in the corporate market, that can be a problem. It's the same story for DJs looking for leads for those elusive, but potentially lucrative corporate events.
LinkedIn, of course, has a paid-subscription tier available called Sales Navigator, but that comes with an annoying monthly cost in the range of $60 to $100, depending on what country you live in. Sales Navigator does give you the ability to literally spend all day on LinkedIn and sell like mad. However, there's one really important aspect to be aware of. If you know this fact, you can bypass the need to pay for Sales Navigator, and still get all the data you need. Please sit down now – here's the Jordan secret sauce!
Every single LinkedIn profile is indexed by Google!
Of course, you know this inherently. Just do a Google search for any name at random, and some of the top results on Page 1 will be various LinkedIn profiles. (I'm sure most of you have seen this before). Most of you, though, are probably not aware that you can invoke a process on Google called a Boolean Search.
Essentially, these Boolean Searches allow you to use Google in a much more targeted manner by attaching filters to your original search term. For those of you who have a natural affinity for such things, it can help you zone in on your searches to arrive at the results you're looking for. Unfortunately, most Google users aren't savvy enough to make Boolean Searches part of their daily routine.
Fortunately for those of you who are Boolean-challenged, there's been a little cottage industry of digital tools that has sprung up in the last few years that streamlines this Boolean process in a format to which most users are accustomed. These tools serve to bridge users between using Boolean processes on Google to find LinkedIn data and simply plugging in their search terms into fields and receiving a report accordingly. In short, they make pulling LinkedIn data out of Google very simple, so that you can focus on the task at hand… and for DJs, that could mean finding out who to contact at a company to get that corporate-party gig.
One of my preferred tools in this category is called Sales.Rocks, which is also its domain name. So, let's take a look… Logging in brings you to the home page within the tool, as seen here: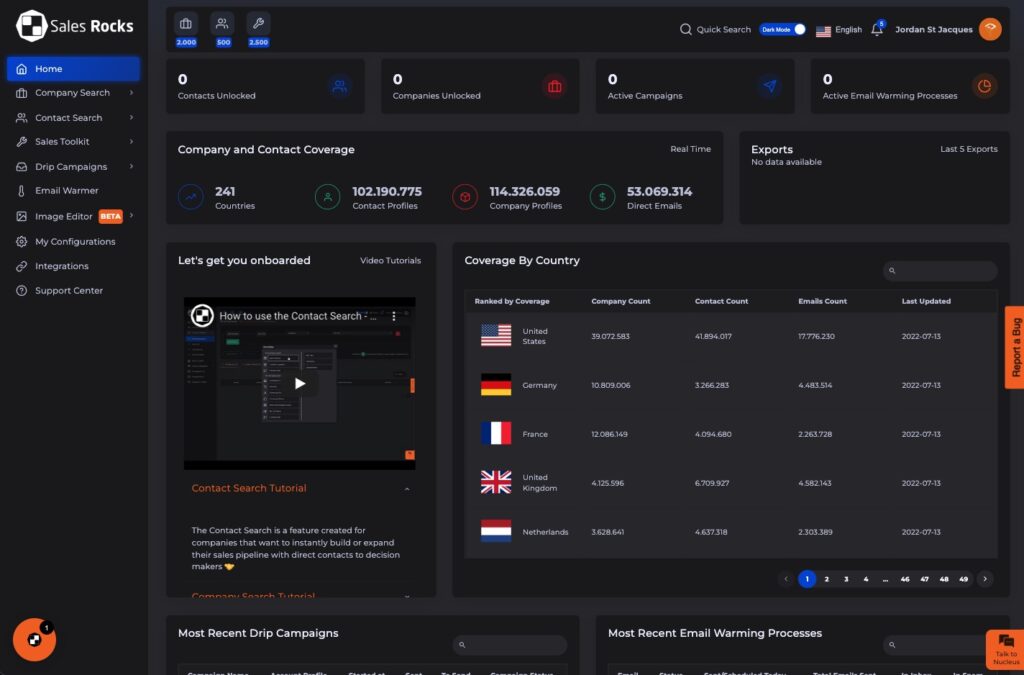 Of course, the first page is usually a jumble of dashboard widgets and jump-off links. I'll skip those for this article, and focus on the meat of this tool, which, of course, is the menu. The important menu items are as follows:
Company Search
Contact Search
Sales Toolkit
Drip Campaigns
Other sections, although not quite as important, are worth knowing about. They are:
Email Warmer
Image Editor
My Configurations
Integrations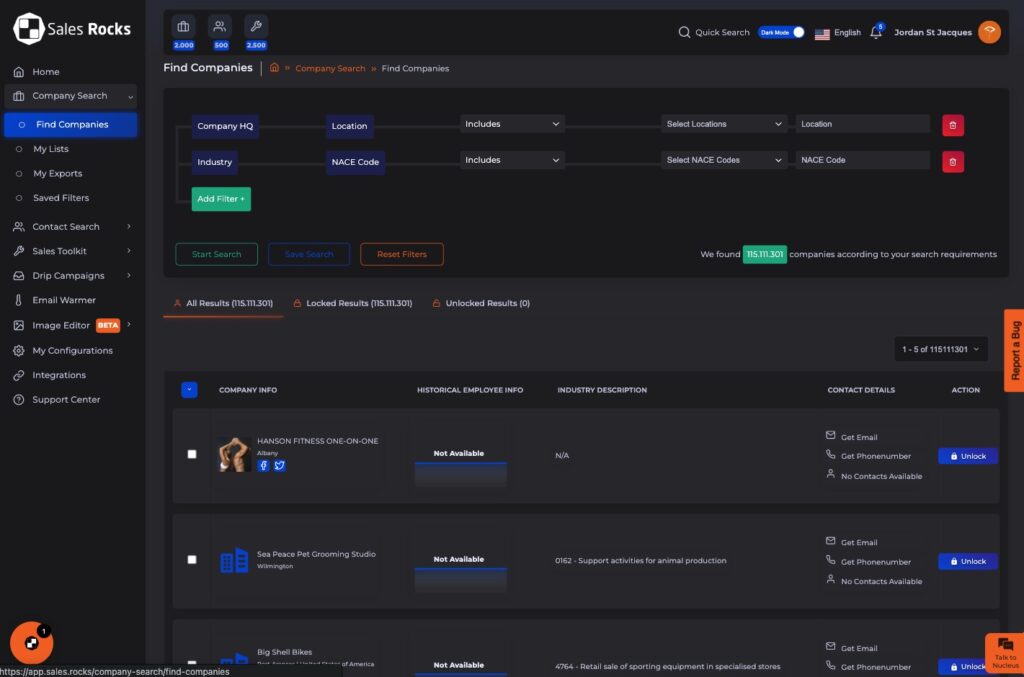 Company Search
Clicking on Company Search will reveal four sub-menu items. The red meat here is the Find Companies page, which you can see just above. As a seasoned power user might expect, you can enter your variables such as Industry, Location, Company Size and more to arrive at a prospect list. From there, you can "unlock" companies within Sales.Rocks, and add them to one or more of your Custom Lists, where you can use the data in multiple methods. You can also export the data from one or more companies and use it however you like. Finally, you can save your searches for later use.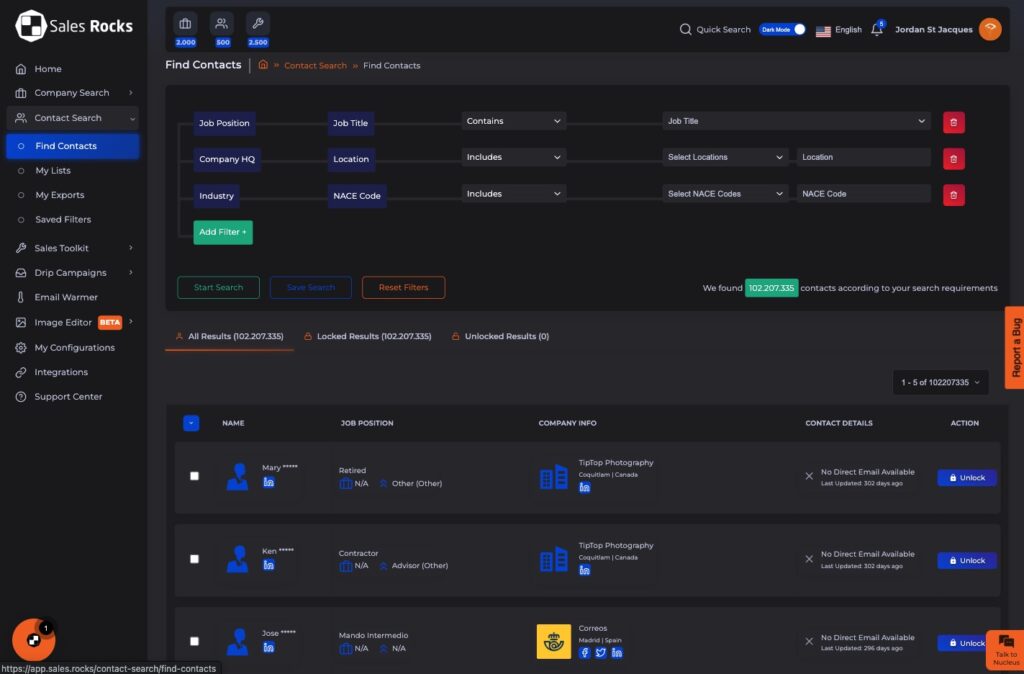 Contact Search
As you might expect, this section is a rinse-and-repeat of the Company Search, except it's meant to find the names of people within the companies in question. The functions are all the same… what's important here is to pay attention to fields such as Job Position/Job Title. Although there's no official job title that plans all the parties, the Office Administrator/Secretary usually knows everything that's going on at a company, and is very good place to start.
Sales Toolkit
Once you have pulled the data from the two sections above, there's always a bit of clean-up to execute. The fastest way to get your email address or phone number blackballed is to send out communications to bad emails and/or phone numbers. The big telco companies have algorithms to fight such marketing efforts – they think it's spam – and will auto-ban you if your campaigns reach certain levels of rejected emails and/or text messages. Use the Email Verifier and Phone Verifier within Sales Toolkit to keep your data up-to-date.
Drip Campaigns
Emails collected from your Company & Contact searches can then be brought right into the Drip Campaign section of Sales.Rocks, which is similar to the Drip Campaign modules within MailChimp, Constant Contact, Keap, etc. One notable difference here is their LinkedIn bulk message Drip Campaign feature, which is very efficient… and very powerful.
Other Sections
Although not quite as important, these sections can also help your efforts.
Email Warmer. Helps to "warm up" your email address, so that the big ISPs are less likely to ban your email. Also helps in making sure your emails end up in the inbox, not the spam folder.
Image Editor. A handy image repository, so that you can insert the images you have stored here into your email blasts.
My Configurations. A place to configure all your basic settings that you'll need to define for your blasts.
Where you can connect your CRM of choice to Sales.Rocks, and get your data into your CRM for follow-up management.
As with any such tool, expect there to be a learning curve. The staff at Sales.Rocks are very helpful, though, and there's lots of tutorial videos. I've been using them for over two years now, with good results. If you're looking for a good tool to help you pull LinkedIn sales data without paying for that Sales Navigator subscription, give Sales.Rocks a try.
Want to know more about this feature? Ask Jordan St. Jacques at DJX in August where he'll be presenting seminars each day!
Jordan St. Jacques is the President/Lead Digital Marketer at Digitera.Interactive in Ottawa, Ont., Canada.

To check out more business tips, click here.