Electronic dance music has been around for nearly 50 years now, but it wasn't until the early 2010s that the genre began to dominate musical culture here in the United States. Among others like Calvin Harris, Avicii, and Swedish House Mafia, Hardwell was at the forefront of its explosion in popularity, making hit records and gracing festival stages around the globe. 
But, unlike the others, Hardwell voluntarily put his career on hold. And now that he's returned to the scene after nearly four years, we ask: "What happened?" This is the story of Hardwell's road back to the DJ booth. But first, a little background: 
Hardwell (aka Robbert van de Corput) was born in Breda, Netherlands, where music quickly became a significant part of his life. After taking piano lessons and attending a music school, van de Corput began producing his own music around the age of 12, while also getting completely engulfed in DJ culture. Unsurprisingly, he was heavily influenced by Tiësto, the legendary DJ/producer who also grew up in Breda. 
But early on, he struggled to find his sound and looked to get gigs as a hip-hop DJ. Eventually, he switched gears, pursuing harder, electronic sounds, and soon became more known throughout Breda's DJ scene. Continuing to hone his craft on the decks and the studio, Hardwell began to rise through Holland's DJ ranks – even though he ran into promoters who believe his sound was "too underground."  
With passion as his driving force, Hardwell's breakout came in 2008 when he delivered "Show Me Love vs. Be," a bootleg/mash-up of Mobin Master's cover of "Show Me Love" (by Robin S.) with "Be" (by Steve Angello and Laidback Luke). As DJs across the world discovered the track, it simultaneously received high praise from Laidback Luke and Angello. (The two legendary producers would release the track as an official cover version of "Show Me Love.") 
After that initial burst of notoriety, things quickly began to accelerate the following year for Hardwell, who received an invite from Tiësto to attend one of his shows. When the two performed together onstage, it catapulted Hardwell further into the spotlight. 
In 2010, Hardwell founded his record label, Revealed Recordings, which was used as a platform to showcase the sounds of young producers across the world. He would then launch his own podcast in 2011, Hardwell On Air, a one-hour selection of songs by various artists. That same year, Hardwell collaborated with Tiësto to produce the massive electro-house track "Zero 76," named for their hometown Breda's telephone prefix "076."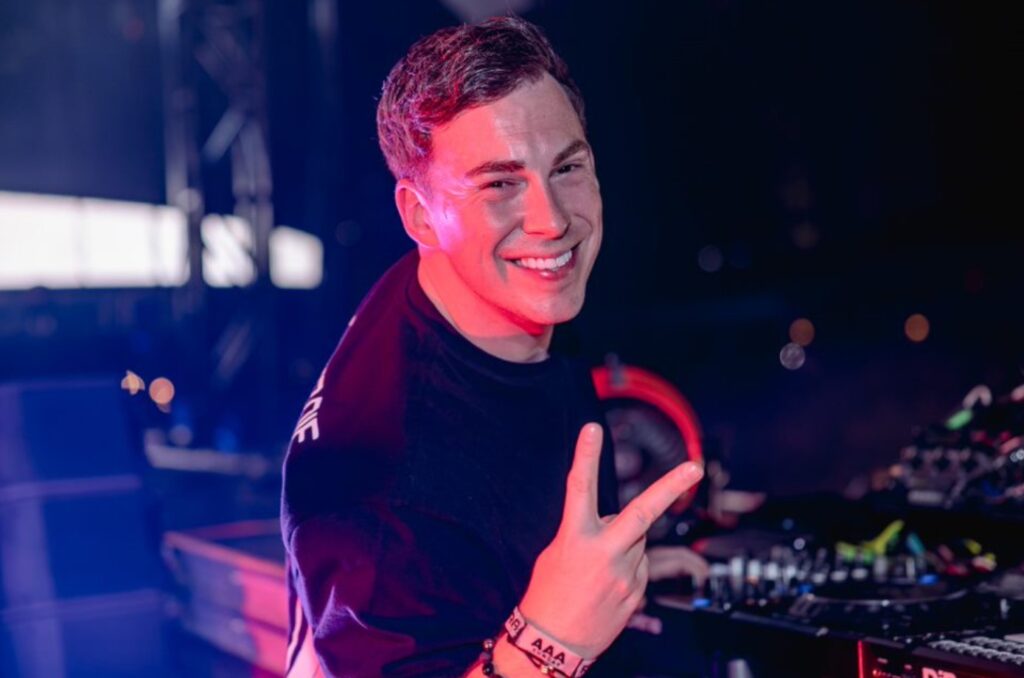 The following year, the Dutch talent would unleash his anthemic single, "Spaceman," which dominated the club and festival circuit, putting the big-room house genre on the map. Considered a subgenre of electro-house, big-room house caught on with its relatively minimal melodies, long build-ups and booming, electro-style drops. Before long, practitioners like Hardwell, Martin Garrix, and Dimitri Vegas & Like Mike were gaining massive popularity. 
Now one of the hottest names in electronic dance music, Hardwell was getting booked as the headliner for the biggest DJ-events in the world – Creamfields, Electric Zoo, Electric Daisy Carnival, and Ultra Music Festival. Then, to start 2013, the Dutch superstar went on a bus tour through Canada, accompanied by Revealed Recordings favorites Dyro and Dannic. He followed up with his first worldwide tour, "I Am Hardwell."  
That year got even better, as he headlined Tomorrowland and delivered a memorable main-stage performance at the Ultra Miami with over 80,000 viewers tuned into his live-streaming set. Additionally, he began to top the international DJ rankings. As his electrifying sound and exhilarating DJ sets put him in high demand across the globe, he would take his next big step as an artist by artist dropping his debut album, United We Are, which featured the Chris Jones-fronted hit, "Young Again." 
While the landscape of electronic dance music continued to evolve, Hardwell experimented with new sounds and genres, showcasing his production prowess and versatility with a steady barrage of releases outside the realms of electro and big-room. And like most global jocks, he maintained a vigorous, year-round tour schedule. 
But in 2018, Hardwell decided to pump the breaks on his career, clearing his schedule indefinitely, by taking an indefinite hiatus from touring – though he stated that he would continue to produce new music. His "last" performance was at the Ziggo Dome for the Amsterdam Dance Event. Moving forward, Hardwell would go relativity silent, outside of a handful of releases in 2019 – like the Trevor Guthrie-featured "Summer Air" – until this past March, when he made his triumphant return in Miami.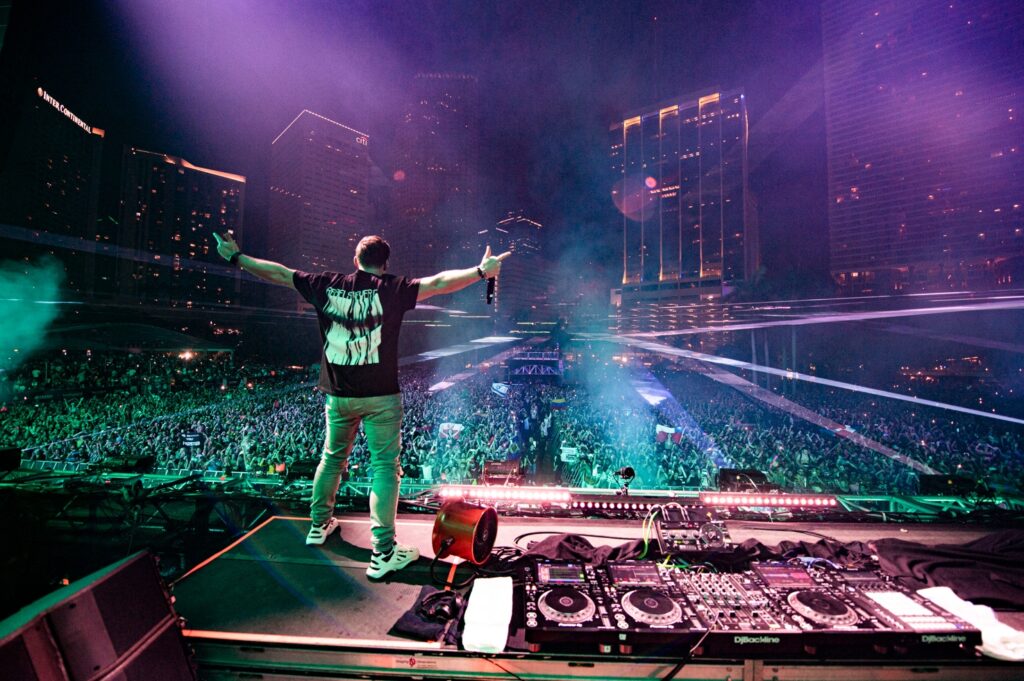 Leading up to Ultra Miami 2022, there were rumors that Hardwell was the special guest closing out the festival. The first phase of the festival's lineup revealed the Sunday closing performance would come from "one of the most iconic artists in electronic-music history." When the alphabetical third wave of artists addition was revealed, fans quickly noticed that the censored name was between Gareth Emery and ILLENIUM. (Anybody wanna take a wild guess who it might be?) 
The week before Miami Music Week, Ultra officially revealed that Hardwell would be stepping behind a pair of CDJs once again after a nearly four-year hiatus. And, for all those who were able to witness it live at Bayfront Park or catch his return on the live-stream, it was a thrilling event. Hardwell delivered a 60-minute set, rocking the main stage crowd with a steady barrage of electrifying, techno-tinged tunes unlike anything we've heard from the Dutchman before.  
Following his performance, powered by his exhilarating new sound, he would announce the upcoming release of his next album, Rebels Never Die, and world tour dates on his social channels. Since then, he's released seven singles, beginning with the statement-making "Broken Mirror" and (so far, at presstime) concluding with the blazing, future-rave track, "Pacman." 
A lot has changed in the world of electronic dance music since Hardwell stepped away in 2018, but Hardwell's now ready to play his new sounds for the masses. After doing five European festival dates this summer, he'll kick off a 17-date world tour, which will take him to four continents through the end of 2022. The tour features four North American dates – Montreal, Vancouver, San Francisco and a New York stop at UBS Arena on Sept. 17. 
Leading into his upcoming tour dates, we caught up with Hardwell, one of the biggest names that electronic dance music has ever seen, to discuss the reasons for his return to the DJ booth, the new album Rebels Never Die, his influences, and everything in between. 
DJ Life Mag: Why did you feel the timing was right to make your return with an album in 2022? 
Hardwell: This new music is where I wanted to be, and I just felt the fire was back inside me. So, there was a yearning to take this new music on the road and get back DJing. I'd missed the fans throughout my time away and I just felt ready to get back out there. 
DJ Life Mag: How would you say the electronic dance-music landscape has changed since 2018? 
Hardwell: It's evolved a lot. We're seeing much more awareness of mental health and the impacts that it can have on people's lives, if that goes unchecked. Key issues like inequality, sexism, and racism are being addressed. All of these are important issues that needed attention. Dance music was born out unity, inclusivity, and like-minded people, so I think this evolution in the scene is a positive step forward. 
DJ Life Mag:  Outside the natural evolution of production that comes over time, do you think the coronavirus lockdowns played a role in producers getting more creative in the studio?  
Hardwell: Yeah, but I guess artists had no choice, right? Away from the bombastic stage performances, big productions and visuals, the music was the only thing that could do the "talking" during the lockdown, I suppose you could say. 
DJ Life Mag:  How did the lockdown period impact you, professionally and personally? 
Hardwell: I was already working day and night in the studio, so not much changed when it came to my own schedule. But it was hard witnessing friends of mine, both in and outside of music, see their entire career or business grind to halt. Like many, I felt very confused about what would happen – not just in the scene, but in life – after all of this passed. But I'm happy to see life is now returning to normal again. 
DJ Life Mag:  You stepped away from a vigorous tour schedule and everything else that comes with being a globetrotting DJ in 2018. How important is it for artists, do you think, to take a step back to recharge their batteries mentally and physically when they begin to feel burnt-out? 
Hardwell: Just from my own experience, I feel it is crucial. You can't burn the candle forever and not expect the flame to go out at some point. So, take a break if you feel you need it – the scene will still be here. 
DJ Life Mag: You're older and wiser this time around – how big of a role does maturity play when it comes to your return in 2022 and beyond? 
Hardwell: In my case, I think it plays a big role. I'm more educated in the studio, I've more history with the music and I am also more appreciative of everything in my life. When you're starting out, you're always searching for that next big moment or looking too far forward to realize what's in front of you already. It feels different, but in a good way now. 
DJ Life Mag: What was your view of the electronic dance music scene while you were away from it? Is there a greater appreciation for it, or do you feel differently? 
Hardwell: I am extremely proud of that "EDM bubble" we all lived in during that moment. What can incredible time in dance-music history that was. I understand, musically, it was not for everyone, but that period in electronic music's history broke down barriers, opened new doors and arguably elevated all genres and artists in the scene. 
DJ Life Mag:  Being a producer/DJ is a whole different ballgame compared to when you first popped onto the scene. What advice do you have for bedroom producers out there who may be overwhelmed or feel pressured to do things a certain way, juggling all these social-media platforms while getting music out there? 
Hardwell: I still stand with the same advice: Believe in yourself and stay focused. But also, just be mindful of the time you commit to things, like social media or whatever else, when trying to build your career. Get the music right and the rest will eventually follow. 
DJ Life Mag:  While social media has definitely made it easier to get your name and music out there, would you say living in the age of social media is a double-edged sword? What should younger DJs be wary of? 
Hardwell: The landscape of social media has shifted enormously since when I was first arriving on the scene. I still believe social media can be a great asset, but it can also be quite toxic, and that's not a good place for young artists who absorb that negativity. It's a powerful tool, but it can have a dark, negative side, which isn't great when you're starting out. 
DJ Life Mag:  How did you handle any negativity you received on social media after showcasing your new sound at Ultra Miami? People seem to have a lot to say when hiding behind a screen. 
Hardwell: Exactly that. It's easy to make a passing comment or criticize something from behind a keyboard, but it's a lot harder to go out there and do something yourself. But, in all honestly, I've seen little negativity around my comeback and the music. My show is all my own music, so it's everything from my new album, Rebels Never Die. The whole concept around the show and album, which people have seen so far, explains that I am just being myself. So, I think fans of any genres or scene seem to understand that. 
DJ Life Mag:  You come from a city in Holland that's a prominent place in the world of electronic-dance music. Tiësto and Arnie Bink [of Black Hole Recordings], two big players in the electronic dance music game, are also from Breda, not to mention W&W, R3hab and others. Even back in the day, Elvis Presley's manager Col. Tom Parker, was from Breda. Why do you think a city like Breda has turned out so many people in the music business? 
Hardwell: For a city, it's quite small, so I guess it's the grass-roots aspect, which has contributed to so many of us growing into established artists in our own right. Having people like Tiësto to inspire us and aim towards was a huge motivator for me and my friends. He is one of us, so the dream of being a DJ felt more real. 
DJ Life Mag:  What was the music scene in Breda like when you were growing up? What caught your attention and influenced your musical path? 
Hardwell: Hip hop was the thing that first grabbed me and my friends at school – but this was all music from the U.S. So, when Dutch dance music began to grow and we discovered it, that's where my musical path just had to follow. I used to spend a lot of time at Tiësto and Arnie's record store Magik, where guys like Armin van Buuren, Laidback Luke and Ferry Corsten would occasionally be, in there buying records. Café Janssen is another place that had an impact on my musical path and, in recent years, I've had some great moments there with so many of my friends, family members, and DJ buddies. 
DJ Life Mag: Creatively, how did you approach your most recent releases? Your sound is evolving – what has influenced you? 
Hardwell: I grew up on the sounds of tech-trance, so the early styles of Marco V and Mauro Picotto, for example. There was a fusion of trance and techno in there that I always loved. It was hard, but all those records just had this incredible pace and groove. As I evolved as a producer, my sound eventually led me to Big Room and when that wave took off, I kind of sheltered my passion for the techy, harder-edged stuff that I'm creating now. It was not by design. It was just the way things evolved at that time. So, I wanted to rekindle that side of my musical taste, both as a fan of the music I like and the music I make.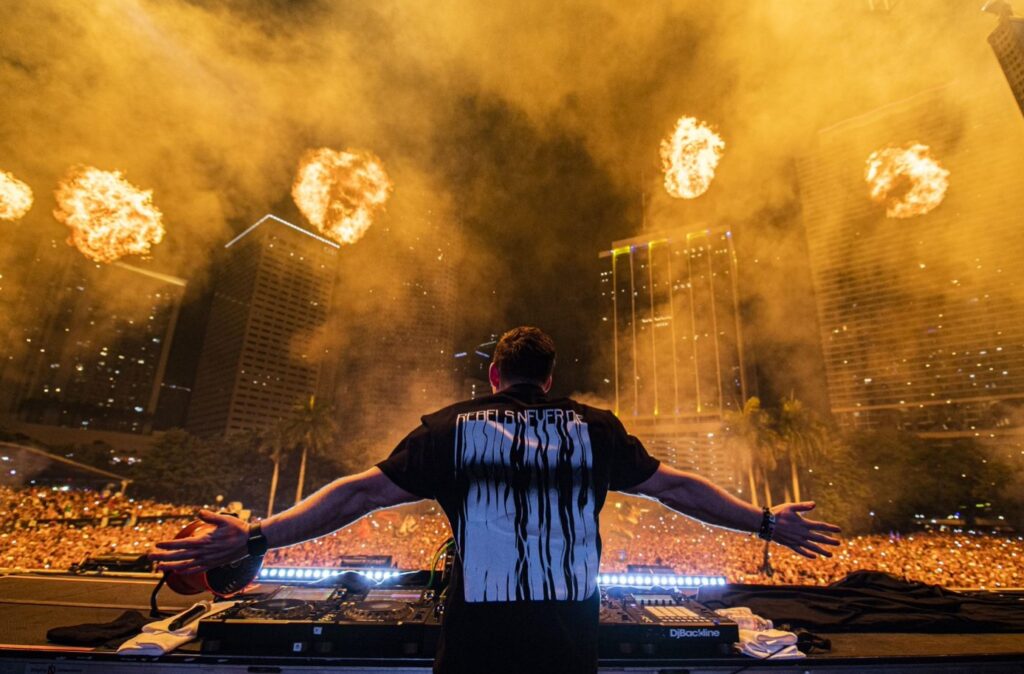 DJ Life Mag:  After being away, what was playing Ultra Music Festival like for you? What was it like to come back to such a huge audience? 
Hardwell: Well, as you've probably seen by now, I only played unreleased music – so, I had no idea what to expect. I can honestly say I was shitting myself before going on – not because of performing, but because I knew this was going to be very different for some fans. But the reception from the fans was so fucking amazing! In all my life, I've never experienced a show like that. Ultra is like a home for me and the while family there are incredible to work with. 
DJ Life Mag:  A little studio talk: From your main studio gear, what's your DAW? Monitors? Vital hardware? Fave plug-in? 
Hardwell: Not much has changed, to be honest. I'm still using Logic [DAW], my Genelec 1034B main monitors and 7073A subwoofer, and the Yamaha NS-10M studio monitors remain. I've also still got my synths, like [LennarDigital] Sylenth, Access Virus TI and [reFX] Nexus. The incredibly talented Jan Morel, my studio designer, acoustician, and good friend, remains my sound board for any changes I ever want to make with my studio set-up. 
DJ Life Mag:  Which new producer/remixers do you most admire, and why? 
Hardwell: Super-proud to see the likes of KAAZE, Maddix, and Tim Hox growing each day. Working with such a pedigree of talent like we do at Revealed Recordings, it's always a special moment to witness an artist's dedication and commitment blossom into deserved success. 
DJ Life Mag:  And which DJs do you admire, and why? 
Hardwell: Musically, I may have been very different from some of these, but I've always admired how artists like Carl Cox, Fatboy Slim, Pete Tong, Tiësto, Armin van Buuren, Ferry Corsten and many others, who have been doing it for so long without missing a beat, have maintained their careers over several decades. 
DJ Life Mag: We know you have a couple of big U.S. dates coming up, including a huge one at the new UBS Arena in New York City. What can your fans expect at these shows? 
Hardwell: I'm extremely proud of what myself and the team have put together over these last few months, and I think fans are going to be blown away by the outcome. There's nothing like this in dance music right now. I can't wait! 
To check out more interviews, click here.