As most of you out there already know, WordPress runs between 35- to 40-percent of the world's websites, which, of course, includes the DJ industry. Indeed, DJ companies utilize WordPress in an even higher ratio, approaching 60-percent for our industry.
Accordingly, DJ companies must be aware of constantly changing versions of plug-ins…and, of course, the WP Core files. Recently, WordPress upgraded its core version to v6.0, which is a major release. With major releases, there's always special considerations to consider, so don't upgrade the WordPress version just yet.
The dangers in upgrading your website files without vetting out the versions first are as follows:
• Your WP theme may not have been upgraded to work with the latest version of WordPress. If you upgrade to WP 6.0 and your theme has a conflict with WP, your whole site will then be broken. In a case like this, you or your web guy would have to "dial back" the WP version on your server in order to restore your site as being up and running. Note that this dial-back process isn't the easiest thing.
• The various WordPress plug-ins that you have installed and perhaps rely on for various functionality on your site also may not have been updated yet in order to work with WP 6.0. Again, if there's a conflict with some of your plug-ins and WP 6.0 core, that conflict might render some or all of your site as broken.
Here's a handy chart that shows version adoption as of two weeks after the release of WP 6.0. You can see that a significant majority of site are holding onto WP v5.9, which is probably the segment of web developers that are cautious. As for versions that are lower than 5.9… sticking with those versions usually means that the theme and/or plug-ins haven't been updated to work with newer WP versions, and so the site owner or developer isn't bothering to upgrade. It's also downright dangerous… these version upgrades are published for a reason.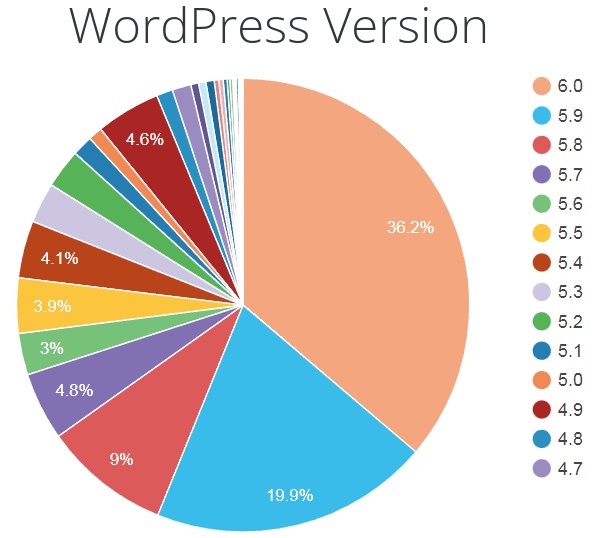 Some noted issues so far with users having problems with the upgrade to WP v6.0. They included:
• The EDIT POST page appears blank in some cases.
• The JUSTIFIED ALIGNMENT function was removed.
• Other alignment issues have cropped up.
• Site Speed has slowed down in some cases.
There's more, but you get the idea. Most of all, the aspect to pay attention to is that of the Page Editor. WordPress released a new Block Editor called Gutenberg for v5.0 back in November 2018, and as much hype as it's received, it's still not a finished function. There's still a significant amount of WordPress-based websites that revert to the Classic Editor (I'm one of them). The team at WordPress is still working on Gutenberg and making big strides. For now, though, I suggest to all of you to use the Classic Editor. There's just too many areas of confusion that will led to site errors, especially for those DJs still doing their own websites.
So, what should you do to protect yourself?
• Make sure you're using a theme from a reputable author. If you bought your theme on Themeforest, you can assess the author in question by looking at the Comments section. Are they responsive there? How fast do they answer questions?
• Stick to plug-ins from major dev shops, and those that release upgrade versions on a frequent or semi-frequent basis. Plug-ins such as WPBakery, Revolution Slider, Gravity Forms, etc., are usually reliable at keeping up with these major releases.
• Make sure your Forms are set up to send a copy of the submissions directly to your email inbox, so you won't lose any customer information in the event you lose a day or even a week of data if your site gets corrupted.
• Make sure your server is still running PHP 7.4 as the major dependency. Unfortunately, WP 6.0 only offers Beta-level support for PHP 8.0.
• Above all, back-up everything! Those of you who don't back-up do so at your own peril. Using a plug-in such as BackupBuddy and running it at least once a week – we run them once a day for databases and once a week for the website files – is just crucial. So many horror stories come to us about lost websites that didn't have a proper back-up. Don't make that mistake!
Keeping your site up to date for theme and plug-in versions, as well as WordPress itself, is vital. However, for WP core releases, you have to approach with some caution. After all, it would be pretty embarrassing to lose your entire site the week before a full slate of weddings! Consider yourself warned.
Jordan St. Jacques is the President/Lead Digital Marketer at Digitera.Interactive in Ottawa, Ont., Canada.
To check out more business tips, click here.