Taking 2022 by storm popping up at the biggest clubs and festivals across the country which recently included sets at Coachella's Yuma Tent, SOHMI has proven to be a force to be reckoned with and is showing no signs of slowing down.
Being a classically trained pianist, music has always played a major part in her life but it was the world of electronic dance music where she really found her niche and truly began to thrive following a self-released promo mix in 2018. The blossoming Korean American talent is a versatile DJ, producer, and vocalist with her productions being an enchanting blend of minimal house and techno featuring her own pop-inspired vocals.
Considered a relatively fresh face in the electronic scene with her debut release coming in 2020, we took the time to get to know SOHMI a little better.
DJ Life Mag: Who or what introduced you to the world of dance music?
I was first really introduced to the culture and world of underground dance music by moving to LA in 2016 and attending my first festival – Coachella. Though I'd listened to artists like Aviici and Skrillex for years prior while living on the east coast, it wasn't until Coachella 2016 that I was introduced to the sounds of underground house and techno through the Yuma stage and Rufus Du Sol's performance at the Sahara.
DJ Life Mag: What made you fall in love with dance music as a whole?
SOHMI: I think it's the same thing many people would say. The culture was a huge piece of it for me, as experiencing 'rave' culture for the first time was heavily intertwined with my assimilation to a new beginning in a new city where I really felt like I had to start my social life over. The two basically happened in tandem, sort of organically feeding into each other, so there's this forever-gratitude I'll have for dance music's culture because through it and thanks to it, I feel like I was really able to establish roots in a new city and build my life over again – and even expand my self-discovery.
DJ Life Mag: What made you want to follow a path in music?
SOHMI: As crazy as it may sound, I think I always knew I wanted to follow a path in music – maybe even as early as age 3. I was already studying classical piano by then and had learned how to sing on my own. It's like I was born with an intrinsic need for music; it always came naturally to me and I found myself always wanting to perform it, consume it, be around it. From 3 until graduating from college at age 21, I basically devoted my entire life to music and performance (outside of time spent on school and classes) and dreamed of continuing even after. Why I didn't follow that path in music straight out of college comes down to cultural pressures that many other Asians and Asian-Americans are familiar with: my parents disapproved and I didn't want to disappoint them. It took me nearly 10 years of trying other career paths and jobs that I thought were a 'happy medium' between what I wanted and what my parents would be okay with (like a job on the business side of music or product management in tech) to realize how much of my deepest sense of self I had lost touch with, and with that, how unhappy I had become. So following my current path in music now was not some decision that came suddenly or overnight; though the specific approach through electronic music and DJing and producing may be a newer epiphany for me, I wanted to perform and be around music my entire life.
DJ Life Mag: You grew up abroad internationally in cities like Hong Kong and Seoul. How much of an influence does that period of your life have on your music?
SOHMI: That period of my life had an immeasurable influence on my music and understanding of music today. Those were the years I very seriously studied classical piano and music theory, and even though I don't consciously bring theory into my productions or DJ sets, the very way that I hear music or instinctively know how to put music together comes from that foundation of classical training. For example, my ear is very sensitive to keys clashing or harmonic dissonance, so that's come to shape one aspect of my particular style of DJing which is very deliberate with harmonic mixing. And when there is tension or dissonance, I've chosen to create that moment on purpose – not by accident or as the result of a choice I didn't anticipate.
DJ Life Mag: What does your studio setup look like these days?
SOHMI: My setup is still fairly simple and I use pretty much all the same gear that I started out with 4 years ago: a MacBook Pro, Ableton, thunderbolt display monitor, Komplete 6 audio interface and Kontrol S49 keyboard from Native Instruments, a Samson condenser mic I've had for 12 years, and a pair of pre-owned silver KRK 5s. Actually, I recently purchased my first piece of analog gear, the Moog Sub37 which I got mainly to create richer basslines. It's an amazing piece of gear.
DJ Life Mag: What's your creative process like being both a producer and vocalist?
SOHMI: It can feel a bit all over the place at times, because mentally for me it's very different to approach song-making as a producer vs. a vocalist. When starting a new project as a producer or going production-first, I'm worrying about things like kicks and groove and trying to sound-design the melodic elements by digging through presets on VSTs and tweaking them to my taste. When working on a new project as a vocalist or songwriter-first, I'm worrying about completely different things. I'm thinking about lyrics, a lead melody, the interplay between that melody and the lyrics, and then all the tedious work that comes with creating vocals (comping, sanitizing, stacking, processing). It's almost two completely different tasks and I'm responsible for doing both, so it can be a lot sometimes… but it also allows my brain to switch gears between two types of creative processes which is helpful because sometimes you hit a wall with one and find more success that day by taking a break from it and doing the other.
DJ Life Mag: When you have a rough week or hit a wall creatively, how do you get yourself back on track?
SOHMI: One way is like I mentioned previously, which is to take turns between producing and songwriting/recording vocals so I can work through the walls and not get stuck on just one or the other. When I'm having a rough week overall though and feeling creatively low in general, I give myself space to take a break. I've become much more mindful of my mental health in the last few years, and I've found that it only makes it worse for me to force music creation on myself when I'm feeling depleted or low, as usually not much comes of it and then I'm hard on myself which makes everything even worse. Weirdly, at times I've found that taking a break and watching an amazing movie or getting into a riveting Netflix show actually sparks the musical creativity again – I think because my brain subconsciously processes the relationship between soundtrack and dramatic narrative while I'm watching these things but I'm not having to 'work' or 'use my brain' during, so this gives it a chance to rest but also get inspired at the same time.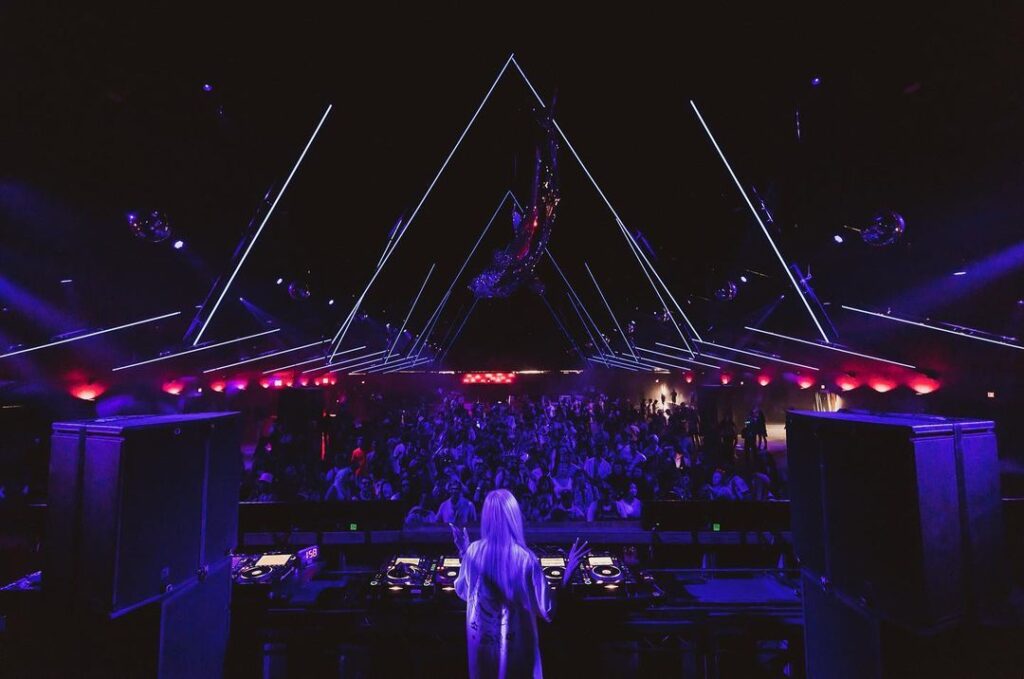 DJ Life Mag: For anyone new to the SOHMI experience, how would you describe your sound?
SOHMI: As a producer/vocalist, I would describe my sound as 'minimal pop tech'. Imagine minimal, tech-y productions (grooves that straddle the line between house and techno) with fragments of pop-inspired vocals. As a DJ, I would describe my sound as an extension or deeper exploration of the ethos of 'minimal pop tech'. My library of tracks for example pulls from a wide range of dance music sub-genres (which is 'pop' in approach), and all of the tracks seem to share a kind of tech-y, minimal quality. There's clearly a sound that I'm drawn to, which is not determined by genre or groove (hence not sticking to 'house' or 'techno' or 'tech house') but rather by sonic quality and melodic motif. I like round and hollow sounds; deep and funky basslines; moving melodic leads; hypnotic vocal chops. I love minimalism and taking my time in a set to build towards impactful moments, which don't necessarily have to be the loudest or most raucous. I love anything that sounds and feels soulful and sexy.
DJ Life Mag: Tell us a little about your infectious new tune "Get To You" with Denton and how it came together.
SOHMI: So "Get To You" came about in 2020, while the pandemic was still really escalating and lockdown was starting to affect everyone deeply. Denton aka Josh Butler and I had just finished collaborating remotely on "Sunday Sunset" together, and we'd had such a nice time working on that one that we wanted to get started on the next project right away. He sent me a folder with bits and ideas in various states of completion, and I went through it to see if anything stood out to me as a potential starting point. There was one 'bit' in there that was basically just a four-bar loop of piano chords, and it was by far the least fleshed-out thing in the folder but for some reason I gravitated towards it. By the next day, I'd written and recorded a whole demo around those chords and right away Josh loved it. After he fleshed out the production and we worked on the arrangement some more, Josh sent the song to the team over at Defected / DVINE Sounds and the rest is history, as they say.
DJ Life Mag: You're not big on genre-pinning, how big of a role does that freedom play when in the studio and playing DJ sets?
SOHMI: It's pretty much part of the fabric of my artistry and sound, so a pretty big role I'd say! The mindset away and freedom from genre-pinning allow me to focus on the singular goal of telling the most moving story through groove and melody, where it's not about what genre each track is within that story but rather what the story sounds like overall. All great stories have a beginning, exposition, conflict, and resolution, and I feel like the only way I can fully create and explore each of those narrative sections is to draw from a little bit of this and a little bit of that. A lot of minimal techno, to me, makes for an excellent 'beginning' and mood-setting; exposition and conflict are well conveyed by melodic house, melodic techno, deep house, driving techno, and then resolution is really well-captured by indie dance, ethereal breaks, and vocal house. At least to my ear, anyway.
DJ Life Mag: You have quite the tour schedule these days; give us three tracks that are always at the ready for you.
SOHMI: I always have my tracks Closer, Time, and lately I've brought back Midnight (Hanging Tree) by HOSH. Closer and Time perhaps for obvious reasons as they're two of my productions, but both are also really versatile tools for me as I can play them as mid-set transition moments to bridge the vibes between house and techno, or I can play them towards the end of my sets as closing moments. As for Midnight, it's just such a damn good track. It might be a near-perfect dance track, in my opinion, striking the perfect balance between soulful and funky yet melodic and driving and moving. Those vocals just kill me. So even if selfishly, I find myself playing this one a lot these days because it just makes me so happy to listen to – but I don't think I'm the only one! Based on the crowd reaction every time I play it, it's just one of those songs that you get excited to hear coming in and makes you wanna close your eyes and get lost for a moment.
DJ Life Mag: You moved to LA and would later attend Coachella, which changed everything for you. How did it feel to be on the other side of the stage this year playing the Yuma tent, surrounded by family and friends?
SOHMI: I don't really have the proper words for it. Six years had come completely full circle. In a weird way, it actually felt like visiting my old alma mater or something like that. I think because I had attended the festival for four years in a row before getting to be on the other side of the stage this year – coming back this time as an artist was like seeing all these things and walking through all these places I was familiar with already but was experiencing as a 'graduate' now, if that makes sense? Most of all though, I just felt so so grateful. Grateful to be there, and grateful to have friends and family to share all of it with… it was like damn, life doesn't get more meaningful than moments like this.
DJ Life Mag: What's next for SOHMI in 2022 and beyond?
SOHMI: Every day, I wake up with so much adrenaline and excitement but also paralysis from the thought of this very question. What's next? There's so much I want to do. There's so much more music I want to make, but I'm navigating for the first time how to find enough time to work on it while touring and playing shows all over the country. I want to continue to tell my musical story through my label, Permission, and push the sonic boundaries of my own music outside of the releases I currently have. I want to start playing more internationally and outside of the US someday soon. As everything has unfolded thus far in my career however, the things to come will happen when they're supposed to. I feel like my job is simply to show up every day and live this life in music, being authentically me through everything I do and consistent in my vision, and the rest will happen as it's meant to. SOHMI is simply the musical journal through which one woman is living her life, so what's next is wherever life takes me – and I'll tell you all about it through the music.
To check out more interviews, click here.