When you look at the current landscape of electronic-dance music, a majority of artists lighting up the festival and club circuits began honing their craft at a relatively early age.  
While most teenagers were taking in traditional high-school experiences, attending sporting events, and partying, others were engulfed in music production and gaming. Looking around now, it's safe to say the latter group did not peak in high school – but they're certainly benefitting now. 
One artist who has come quite a long way since his days at Lenape High School in Medford, N.J., is Julian Scanlan. Known professionally as Slushii, the 24-year-old DJ/producer's career has come full circle in 2022 with his name popping up on the biggest festival lineups, in addition to having his music featured in the most-played video games across the globe. 
Being musically inclined as a teenager, Scanlan's musical journey began as the bassist of Deuteronomy, a proggy rock act. He also became one-half of the music duo Monsters With Tiny Mustaches before venturing into the EDM solo space as DJ Swoon. 
Quickly picking up momentum as a producer and DJ, Swoon's Soundcloud account would later fall victim to its automatic copyright system, as it was permanently deleted. However, many would consider that a blessing in disguise because this would lead to the launch of his Slushii project. 
Flexing his undeniable production prowess, his new alias offered a more light-hearted and future-bass-tinged sound. The forward-thinking and vibrant style immediately began to make waves throughout the blogosphere, while also receiving support from some of the scene's biggest DJ/producers, like Ookay, Dotcom, and Marshmello. And with the release of his "Brain Freeze" EP in 2016, Slushii would soon take the electronic-dance community by storm.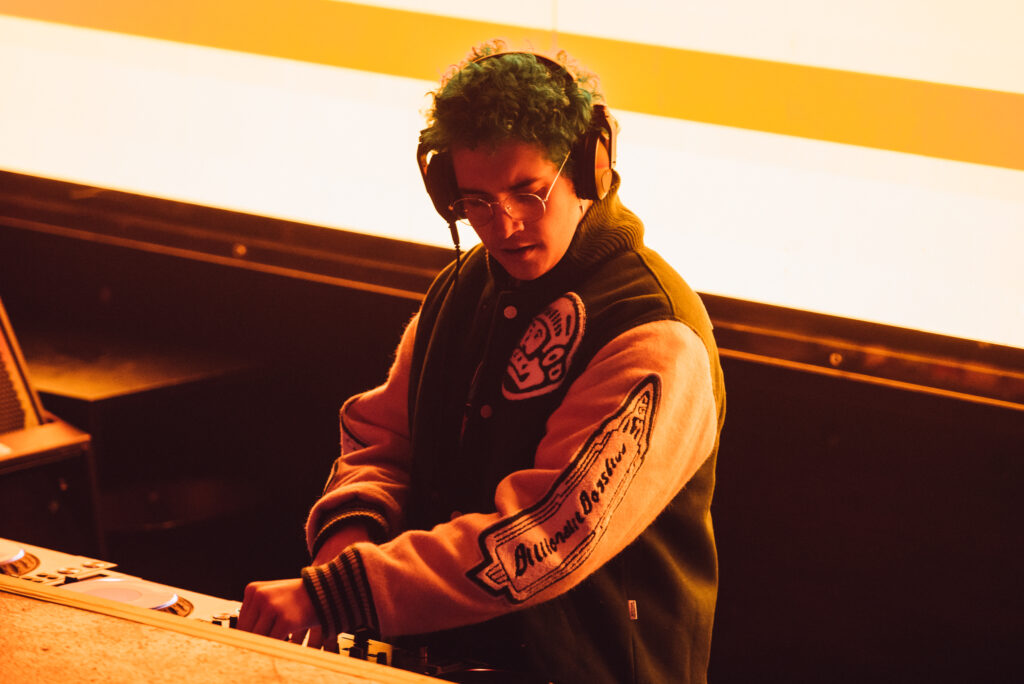 Right away, his output was impressive. Singles like 2016's "So Long" featuring Madi, 2017's "I Still Recall," and 2019's "Never Let You Go" featuring Sofia Reyes made their marks. EPs like "Find Your Wings" and "Watch Yo Back" and full-lengths like Out of Light, Dream, Dream II, and Dream III found an ever-expanding audience. Additionally, he did remixes for a huge variety of hitmakers from the worlds of EDM (Kaskade, Zedd, Skrillex) and pop (Ariana Grande, Drake, Chainsmokers) that raised his profile further. 
This year, he's returned to the Monstercat label – which signed his very first single, "Emptiness" – to release his fifth studio album, E.L.E (Extinction Level Event). It's a cohesive, 14-track offering, fueled by trap-inspired beats and melodic bass, with a futuristic pop edge.  
Outside of being a globetrotting DJ and producer, Slushii has always made time for gaming. So, it's a big bonus that his music has been featured on the soundtracks of Fortnite and Rocket League, which happens to be two the most-popular video games in the world. Move over radio – gaming is the best alternative in getting your music in front of an audience of millions. 
In fact, Slushii's most-streamed single to date, "All I Need" – over 34 million on Spotify, over 15 million on YouTube – climbed the Billboard Hot Dance/Electronic Chart after debuting in his Fortnite virtual concert back in September 2021. 
With his new album E.L.E (Extinction Level Event) still in heavy rotation and still riding the high of playing Miami's Ultra Music Festival this past March, we took the time to chat with Slushii to discuss his meteoric rise into the electronic-music spotlight, music's relationship with gaming and much more.

DJ LIFE MAG: You've always been passionate about gaming, anime, and Japanese culture. How does it feel to have it all come full circle at this point of your career opening 2022 with the release of E.L.E (Extinction Level Event)? 
Slushii: It feels like I've been snapped away by Thanos for five years, and now I've finally woken up. A lot of things in the scene, music-wise, have shifted, and it feels like my peers are all gearing up to blast off with new music very soon. Simply put, it feels good to be back. Tons of anime binge-watching sessions and comic-book movie-watching nights fueled the visual language for the album, for sure. 
DJ LIFE MAG: You have music syncs in some of the biggest video games in the world. As a big gamer, what's that experience been like for you?  
Slushii: It was a very surreal experience when I booted up Rocket League for the first time and heard "All I Need" booming out of my TV speakers. I'll never forget that moment! Or the time after the Fortnite concert where Dvncer and I played while watching the concert I had just performed… pretty meta.

DJ LIFE MAG:  There has been a lot of crossover in the world of electronic-dance music and gaming over these last few years – how big of a role do you think the music in games plays in terms of molding the next generation of dance fans and music producers? 
Slushii: I think music is really one of the defining features that can make or break a project. When I play some of my favorite remastered video games, I tend to play with the classic soundtrack vs. the remaster, because so much nostalgia and emotion still carries, even though the project may have aged.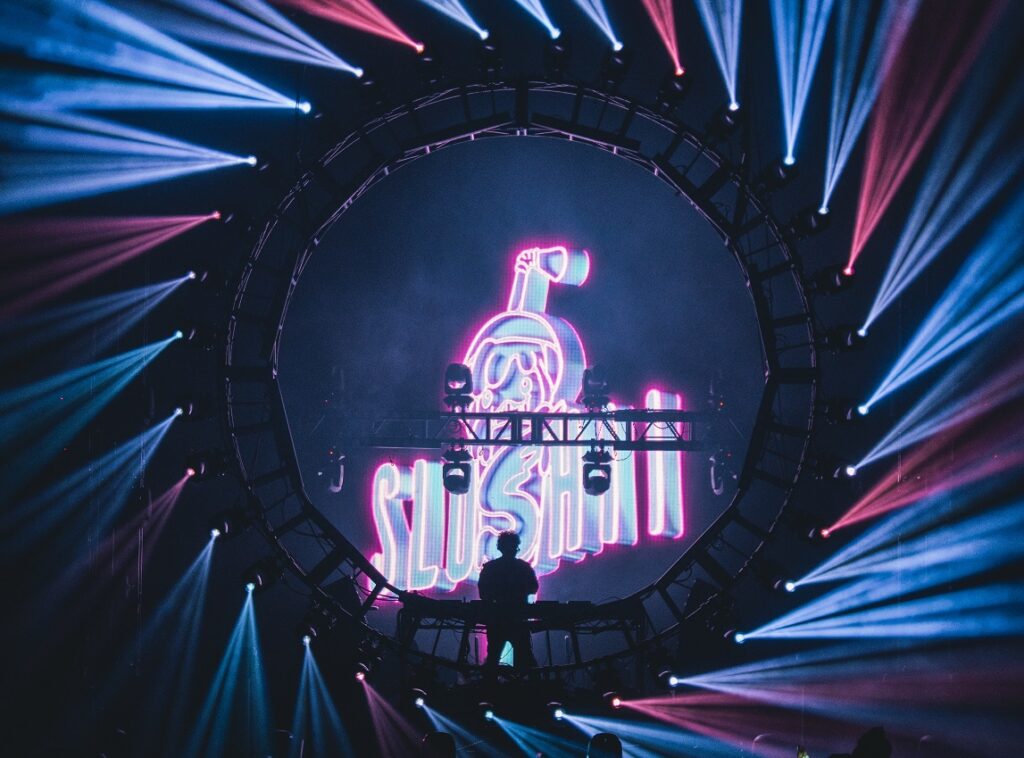 DJ LIFE MAG: What was the inspiration behind E.L.E (Extinction Level Event) and how did it come together? 
Slushii: It truly is a tour diary from the past three years of my life. I had a lot of pent-up emotions and frustrations with my position at the time, and I had felt a lot of momentum was being wasted. So, we decided to just put the project out. 
DJ LIFE MAG: This isn't your traditional album – it's more of an audiovisual experience with the anime, correct? 
Slushii: It really is the beginning of what we're calling "Slushii 2.0." I feel like the world has only seen about 3-percent of what I'm truly capable of as an artist. I can't wait to start putting this stuff out, and to create something that can be remembered for generations. 
DJ LIFE MAG: Tell us a little bit about how "ICE" the collaboration with Rickyxsan came together… 
Slushii: Rickyxsan is such a dope producer. I was a big fan of his sound design, and we had met a few times at festivals and decided to make the track. We actually still play Fortnite together to this day! 
DJ LIFE MAG: If you had to pick one, what would you say is your favorite track of the album, and why? 
Slushii: I think "Wait For Me" is truly the standout song on the album. Sonically and through the deeper meaning of the lyrics, it feels like a very N.E.R.D./Seeing Sounds-charged, electronic, ear-candy anthem! 
DJ LIFE MAG: What does your studio setup look like these days?  
Slushii: Mainly just a MacBook and Ableton Live, and a lot of third-party plug-ins. I usually record sounds into my laptop mic and finish songs that way. I really like the [Warm Audio] WA-47 mic for recording vocals because it has a really clean, but warm sound that captures a bunch of crisp tones. And I primarily mix using my Audeze LCD-4 [headphones] – truly unmatched. 
DJ LIFE MAG: You're one of the most versatile producers in the game. Where do you find your inspiration when it comes to music creation? 
Slushii: Honestly, it comes from a mixture of my love for anime, hip hop, and early 2000s nostalgia – everything from cartoons to old PlayStation games like Dance Dance Revolution and Guitar Hero. Also, a lot of fashion designers and Hypebeast culture have had a large effect on my inspiration. I love the Rick Owens aesthetic – so, it's really influenced my visual art. 
DJ LIFE MAG: When you have a rough week or hit a wall creatively, how do you get yourself back on track? 
Slushii: Generally, when I hit a creative wall, I find it's best to stop whatever I'm doing at the time and just do something else. Read, write, play Fortnite, anything to just get my mind off of the pressing issue… so that when I revisit it later, I can approach it with new ears and a more open mind.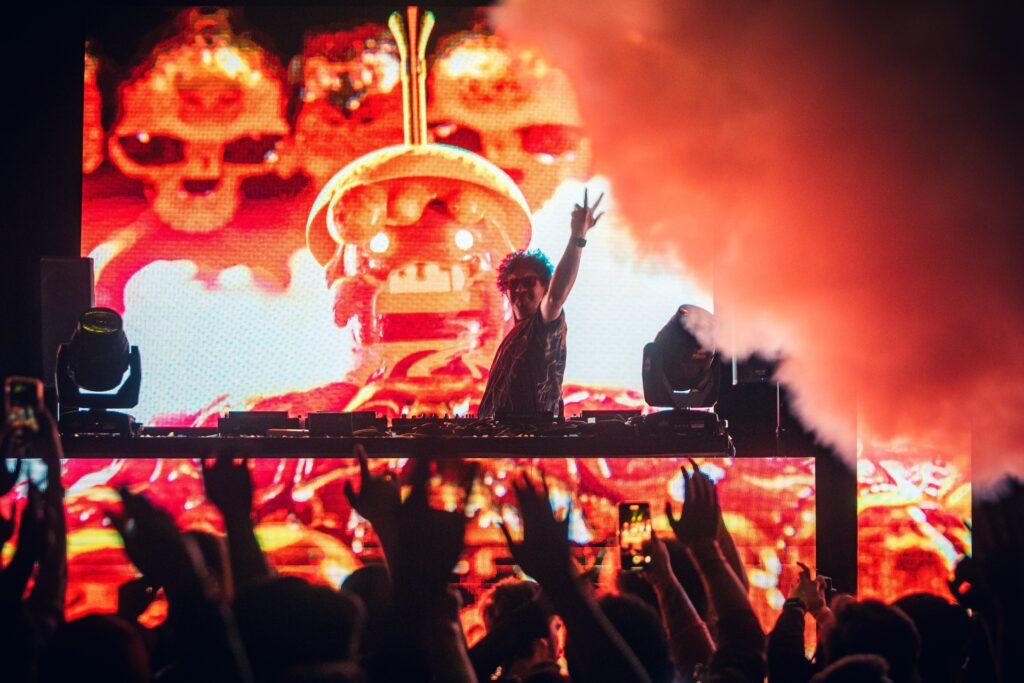 DJ LIFE MAG: When were you first introduced to the world of electronic dance music? 
Slushii: When I was in elementary school, I would always be dragged to relatives' holiday gatherings. One time, I saw a cousin of mine playing Dance Dance Revolution and the music and aesthetic really helped shape a lot of my interest in dance music. The intro for the "Spider-Man New Animated Series" on MTV is also a total guilty pleasure for how trancey and cool it is. 
DJ LIFE MAG: DJing or production – which came first? 
Slushii: Initially, when I started making music, I actually played guitar in a classic-rock-type band. I quit the band when I was 16 because I wanted full control of the music I was creating. I had learned to play four instruments by that time so when I was 17-years old. I had already recorded over six full albums' worth of content. DJing hadn't been a real thought in my mind until I saw Daft Punk's pyramid on YouTube. 
DJ LIFE MAG: What DAW program were you using to produce back then? 
Slushii: I started producing music on GarageBand in my fifth-grade computer class. We had a project where we had to make a song using GarageBand loops, and burn the song to a CD. I ended up making a full, 21-song album using the GarageBand loops, figured out how to use MIDI, and submitted that as my project – I still have the CD. My teacher at the time would let me produce music if I completed all of my work during the class. So, every day I was the first person who completed their work, just to produce music for 30 to 40 minutes.  
DJ LIFE MAG: When would you say that it clicked and you knew you wanted to pursue being a DJ/producer full-time? 
Slushii: I knew I wanted to pursue music full-time in my second semester of college. I was in a math midterm and had just gotten my first legit show offer for HARD Summer. I asked to use the bathroom, put my jacket on, and left the school forever. I thought it was pretty badass. 
DJ LIFE MAG: How would you say Slushii has evolved since first hitting the scene back in 2016? 
Slushii: I think the world around me has become much wider and diverse, and it truly inspires me. For the longest time, I was afraid to make myself heard, or to even try to make a splash. I really took a chance with this project and I feel way more fulfilled and motivated to create again. 
DJ LIFE MAG: How has the bass-music scene, specifically, changed since you first emerged onto the scene? 
Slushii: It's definitely been shaken up, as everything the past two years has taken a considerable hit. But I feel like the one thing it has always had going for it is the community. When I was at my lowest, there was always someone there to lend an ear, and as an electronic-music family – that was really nice.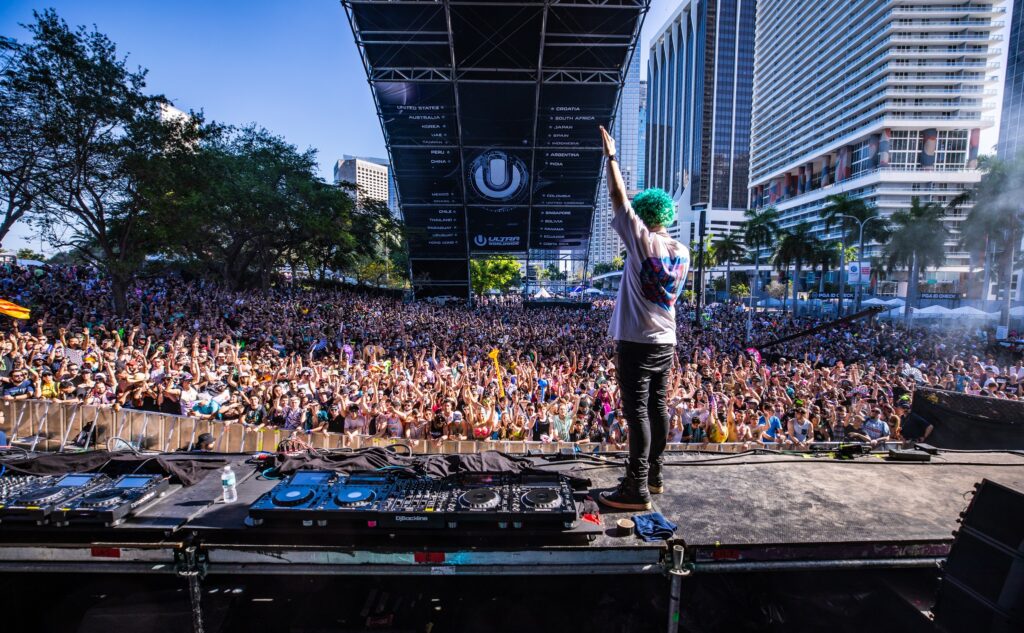 DJ LIFE MAG: For all the bedroom producers out there looking to stand out from the crowd, what words of wisdom do you have for them? 
Slushii: Just be yourself. There is only one you, and that's what people will be magnetized to, not how many cars you have, what your story is to tell the world. 
DJ LIFE MAG: For the first time since 2019, Ultra Music Festival happened this past March, and you were on the Worldwide Stage… 
Slushii: It felt like a homecoming, in a way… like the first time back to school since summer vacation. Before the gig, nerves were setting in, but it's a double-edged sword. It's the fear of failure, and also the thrill of taking the leap into the unknown. And the gray area in between is where I operate. 
DJ LIFE MAG: Ultra Miami is a bucket-list festival for most dance-music fans across the world. As an artist, what makes Miami Music Week and Ultra fest so special? 
Slushii: It was actually a big bucket-list item for me as well. When I was in high school, my friends Alex and Andy really pushed me to chase my dreams, and I urge anyone reading this to do the same. 
DJ LIFE MAG: Last, but certainly not least, what does Slushii have in store for 2022 and beyond? 
Slushii: In 2022, I'm back and more ambitious than ever. I feel like I'm finally ready to start releasing again and showing the world what I've been up to. Literally, three albums' worth of stuff is about to hit the airwaves and I truly cannot wait for everyone to hear it. 
To check out more interviews, click here.