As a late-teen, Kenneth Hyman entered NYU with the hopes of becoming a psychiatrist because, he says, he wanted to make people happy. But after getting exposed to NYC's rich, mid-'90s club scene, he reconsidered his path and took to the DJ decks.  
As Herbert Holler – his new DJ handle – he found a better method to infuse happiness to the masses. He worked smaller parties, handed out flyers for promoters and learned nearly every angle of putting on events that left customers satisfied. His hustle and perseverance set him up for good things to come. 
In 2003, The Freedom Party – an egalitarian club event that plays all forms of classic party music – was born. Nearly 19 years and 800 events later, Holler's hoedown remains the longest-running club party in New York City. Currently set up on the regular at downtown Manhattan's Le Poisson Rouge, The Freedom Party also stretches out to other cities and includes special one-off events like its annual anniversary gig at Central Park's Summer Stage. 
It's an event that Holler describes as "a downtown dance party that doesn't have anything to do with your socio-economic status, your following, your bank account, your outfit, who you know – none of that. Just some dope classic shit with dope classic music for dope classic people." 
From his success with The Freedom Party, of course, Holler's DJ bookings increased to include a variety of events – from weddings and high-profile corporates to celeb-driven soirees. DJ LIFE recently caught up with Herbert Holler, 45, to find out how he's still standing in NYC's ultra-competitive DJ and club landscape.   

DJ LIFE MAG:
You grew up in Atlantic City where your dad was an entertainment director at Resorts casino – how did that experience impact you?
Herbert Holler: I can still see Liberace's big, sparkling jacket from across the room – and Robert Goulet's weirdly shaped face. And I can hear Tony Orlando's voice and see women fawning over Tom Jones and, my mom getting frustrated with me for crying and ruining her Engelbert Humperdinck moment. Frankie, Sammy, Julio… I saw them all. And I loved just being in that place.  
DJ LIFE MAG: Those were the days… 
Herbert Holler: This was the early '80s, a good time for Atlantic City – it comes and goes in cycles – with fur coats, pearl necklaces, big Cadillacs, lots of cigarette smoke, lights, glitz and glamour. It was always so exciting! And for a kid like me, hyperactive, a bit ADD, emotional, outgoing, energetic… it was perfect. There was never a dull moment in Resorts in the '80s. 
DJ LIFE MAG: What music did you love when you were growing up?  
Herbert Holler: When I was a kid, I loved anything my parents fed me: The Beatles, Beach Boys, Diana Ross, Queen, Styx, Kansas, ELO – loved loved loved ELO – Fleetwood Mac, Meatloaf, Motown and more. Then I started falling for pop radio – Phil Collins, Kenny Loggins, Sugarhill Gang and Michael Jackson.  
DJ LIFE MAG: What was the first record you ever bought? 
Herbert Holler: It wasn't a record, but a tape – Run-DMC's Raising Hell. I think others included Eazy E and Digital Underground's Sex Packets. The very first CD I bought was Smashing Pumpkins' Siamese Dream. Eventually, the first record I bought for my new turntable – the one turntable I had – was The Crusaders' Street Life. 
DJ LIFE MAG: So, what made you want to DJ?  
Herbert Holler: I knew that I wanted to spend my life making people happy, making them laugh, making them smile. I went to NYU, early-decision pre-med to be a psychiatrist to make this a reality. But after coming to NYC and going out, I knew that I couldn't spend the next 10 years of my life in a library, stuck in the books, studying, not talking to people, not engaging, not entertaining. I dropped outta pre-med and went for a pretty standard liberal-arts degree.  
DJ LIFE MAG: What put you on the DJ path? 
Herbert Holler: On the side, I worked for Giant Step and other music and party promoters and record labels, handing out flyers – I also did other entry-level marketing things. All the while, I also started playing the music for my frat's parties. I guess I was DJing, but it was real rudimentary. 
DJ LIFE MAG: What were you playing? What was your set-up? 
Herbert Holler: We had two CD players, a piece-of-shit mixer and big Cerwin-Vega speakers, and I had the best CD collection – lotsa hip hop and R&B. So, I got the job, just going back and forth between songs for these parties full of ridiculously drunk, horny, and high college kids. Keggers every weekend. It was pretty insane. And then when I graduated, it was either, "move back in with mom to afford graduate school" or "get a job" and stay in the city.  
DJ LIFE MAG: Seems like an easy decision… 
Herbert Holler: Going back to AC and the sleepy seaside town I was from was not an option. AC was like "level one" when I was already on "level 10" of this music shit from spending every night on the underground music scene in NYC. So, I got writing jobs and editing jobs for City Guides, focusing on music and parties.  
DJ LIFE MAG: And that kept you attached to a vibrant DJ culture… 
Herbert Holler: DJs would send me mix CDs, and… I just kept thinking, "I could do that." And, "Why not try that?" And then, "Why not try and go whole hog with this DJing thing and see what happens?" I had been performing improv comedy at the time, at the UCB Theater, following that path and seeing if that was tenable, but it just wasn't. Zero money. I'd have to move home. My boys at Turntablelab.com sold me a turntable at cost, and then I secured a second one soon after that – ma dukes lent me the money under the agreement I'd make it back in less than a year and pay her back. I paid her back in a month. My first gig was opening for Evil Dee at Bar XVI for DJ Erika Hamilton's Tuesday party. Rest was history. 
DJ LIFE MAG: Which DJs and clubs influenced you then? 
Herbert Holler: My biggest DJ influences are Evil Dee, Goldfinger, Cosi and Mark Ronson. The most influential clubs/parties were Nuyorican Poets Café, Giant Step parties, The Tunnel, Vinyl, Bar XVI, Nell's, New Music Café, Black Diamonds parties, Body & Soul, Chill Factor, and Konkrete Jungle. 
DJ LIFE MAG: How did your previous work in the music/event business inform what you do now?  
Herbert Holler: Those early jobs taught me how to hustle. How to work hard, standing outside in the winter, handing out flyers and talking to folks. They taught me how to engage folks, how to sell shit. They showed me how to corral people into a space, how to entertain them, how they reacted to music and got tickled by whatever DJ was ruling the roost that night.  
DJ LIFE MAG: When and where did the first "Freedom Party" take place?  
Herbert Holler: It was originally called "Summer Boat Boogie." That was the first time I did a throwback party with other folks. It happened on a boat docked midtown called the Half Moon – a four-hour classics and old-school dance party in the harbor, going south around the Statue of Liberty. It was sold-out, with people running down the dock after the boat when it pulled off. Huge success. Amazing time.  
DJ LIFE MAG: Explain the basic elements of what the "Freedom Party" became and why do you think it's remained afloat and successful? 
Herbert Holler: A dope DJ, that's me, a dancefloor and great sound system – now at Le Poisson Rouge – and really dope people loving it all. It remained afloat and >successful mostly because of my work ethic, dedication, commitment and perseverance because I treated it like a full-time job and not some hustle on the side, like most other promoters. One of my prerequisites for working with people became whether or not they did it full-time, because I always put the people first.  
DJ LIFE MAG: Give me an example… 
Herbert Holler: With door prices – people always tried to charge more, but I always said, "No way!" Also, with song selection, with venue/customer attention… It was always about making people happy, just like I wanted it to be. You have to remove yourself from the equation a lot of the time to really and truly be a great DJ and event producer. Still, there were other people contributing on a much smaller level, and all of those small contributions, from sub promoters and cashiers and email gatherers to bartenders and hosts and the like, definitely helped and definitely had an impact and should be mentioned, whether or not they ran the party.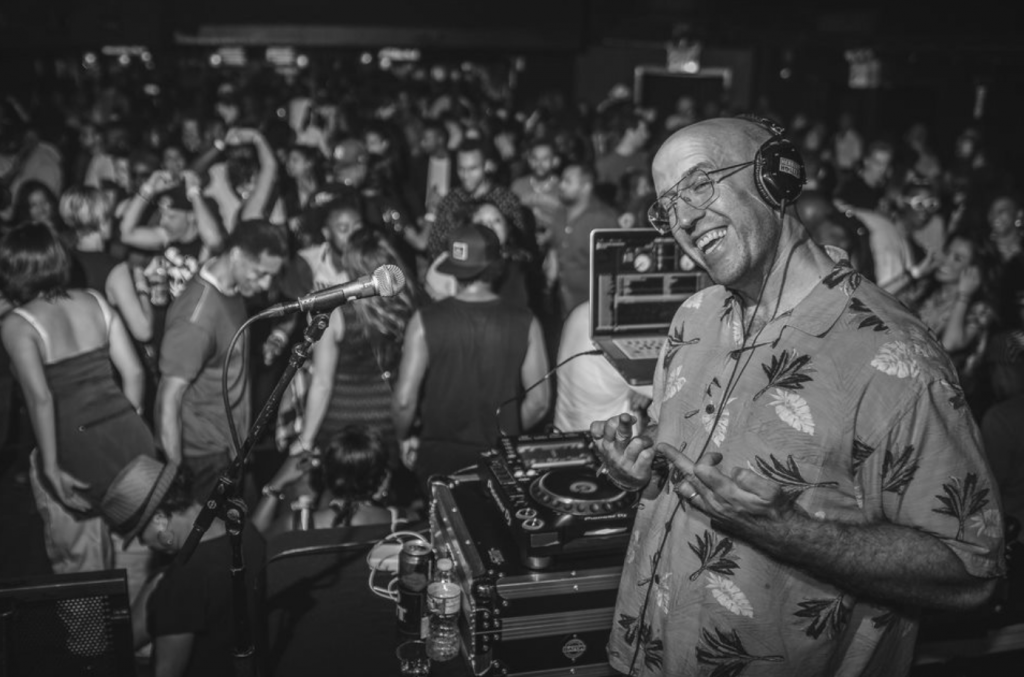 DJ LIFE MAG: What goes into each party's preparation, promotion, etc. 
Herbert Holler: Oy… I don't even know where to begin – there's so much. The days/weeks/month leading up to the party is where a vast majority of time is spent working. This time includes production and coordination, advertising, promotion and publicity, social-media marketing, content creation, workflow management, data analysis, new business acquisition, administration, uploading and downloading and engaging and building and sharing and signing and buying and calling and emailing and hiring and firing and always, always doing – even on weekends.  
DJ LIFE MAG: It never stops, it seems… 
Herbert Holler: All of these things, cumulatively, take countless hours, easily as much as a 9-to-5, if you want your party to be successful, and consistent, with some days lasting 12 hours, even. But if all of these hours are spent, if all of these things are executed, and the work is completed, doors can open and the Freedom Party as you know it —that fun, happy four hours or so, the tip of this big iceberg we call parties – can exist. 
DJ LIFE MAG: What advantages do you get from Le Poisson Rouge, your current location? 
Herbert Holler: LPR is truly extraordinary. They are honest, straight-forward and understanding. The owners are classically trained musicians, and the bookies and managers are true music fans that've been in the business forever. The sound system is proper. The drink prices are always at the lower end of the spectrum. It's like one big family when you're there, and that is a huge indication of a venue being the right place for a regularly scheduled dance party. They also want you to succeed; it never feels like promoter vs. venue.  
DJ LIFE MAG: It's also in downtown Manhattan. 
Herbert Holler: Right, these kinds of places don't exist anymore in downtown Manhattan…. places where you can do different shit that doesn't cater to trends, that doesn't serve just wealthier, more privileged white folks or funded 20-somethings, places where you can go against the grain… these places just do not exist. 
DJ LIFE MAG: What is your typical DJ gear setup?  
Herbert Holler: Pioneer CDJs, Pioneer DJM mixer, Mac laptop, V-Moda headphones. Pioneer DJ is top-notch and I'm most comfortable with it. Mac is the gold standard for digital DJ programs – I use Serato DJ Pro. V-Moda headphones will last you three times as long as any other DJ headphones, and the sound quality is strong. For me, it's all about being mentally free and clear to focus on the dancefloor and my people. I want to get lost in music, so they can, too.  
DJ LIFE MAG: How would you describe your DJing style?  
Herbert Holler: Technically, I'm open-format, playing whatever genre of music I need to in order to keep my dancefloor packed and people smiling. That means playing Top 40 and pop from yesterday through today, be it disco, rock, hip-hop, R&B, EDM, soul, funk, soca, reggae, reggaeton, moombahton, house… whatever.  
DJ LIFE MAG: What kind of DJ impresses you? 
Herbert Holler: DJs that remove themselves from the equation. If I'm on your dancefloor, I want you to drive me crazy. Give me what I need. Give me my medicine. If you can do that, I am in your debt. And from a business standpoint, if, in addition to this, you have your shit together, are professional, punctual and a pleasure to work with, that's quite impressive. A lot of DJs are some of the shittiest, most stuck people in the world. Manchildren. 
DJ LIFE MAG: You've done all kinds of parties, including "yacht-rock"-themed gigs. Why do you think that genre continues to thrive? 
Herbert Holler: Because the music is so dope. It's some of the smoothest pop music ever produced, with tons of jazz and R&B influence, and it was all crafted by some of the greatest studio musicians, producers and writers in the history of music. And the vibe is so… "I'm in control, this is my life, and my life is good, lemme get a drink and smoke and put my feet up and toast to my life." And because the envisioned lifestyle that goes along with it is quite seductive. But truth be told, you don't have to own or even be on a yacht to be yacht rock. 
DJ LIFE MAG: What keeps you DJing? 
Herbert Holler: The absolute joy and pleasure I get from making people happy. The music itself – when presented in just the right way at just the right time to an incredibly appreciative crowd, you love the music even more. You enunciate its soul and make it a better song, somehow – even songs you don't necessarily like. Play them for a crowd that loves them, and you're like, "Oh, OK… this is it!" And I'd be lying if I didn't say the money keeps me DJing as well. I need that shit. Gotta feed the seeds! 
DJ LIFE MAG: What advice would you give to a young DJ? 
Herbert Holler: Meditate… because things often take time. And it's those downtimes, the in-between times, the "my-calendar's-not-so-poppin'" times that you'll really be tested. Be still. Be comfortable with that stillness.
To check out more interviews, click here.