Tay James has been in four different time zones over the course of two weeks: London, Saudi Arabia, the Maldives, back to London, and now, home in Los Angeles. For a little over a decade, James has been Justin Bieber's DJ and is accustomed to whirlwind jetlag. Even when James is stationary in Los Angeles, he has a hectic schedule.  
Today is no different. At the moment, he's in rehearsals for Bieber's upcoming tour for the first half of every day, and in the studio working on the next album for the second half. In-between, he finds time for an interview. 
The 34-year-old Baltimore native has come a long way from his early introduction to DJing in the late 1990s to A&Ring Bieber's 2020 album, Justice, the latest in the global pop sensation's string of smashes. Along the way, James got schooled by the robust DJ scene in the D.C./Maryland/Virginia area, became known as a party-rocking DJ, developed a strong worldwide network of DJs and producers, and DJed everywhere from Las Vegas's Zouk to London's exclusive Tape, where he had Rihanna grooving to his tunes. 
Upon landing in California and after a much-delayed flight, the down-to-earth Taylor Austin James settles in with a giant coffee to trace his musical trajectory, drop some hard-earned knowledge, and discuss Bieber and his beats.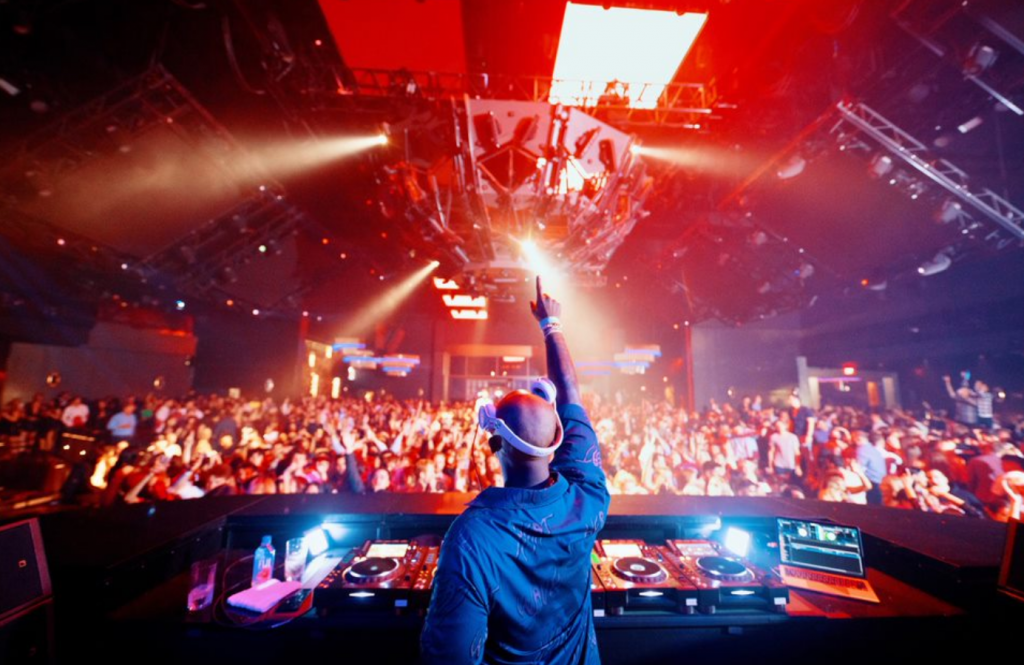 DJ LIFE MAG: When were you first exposed to DJing? 
Tay James: Watching DJ Skribble on MTV. He was the host of Spring Break. He was DJing for thousands of people. He was performing. He was interviewing people, and he was, like, controlling everything. Whatever that guy was doing, I wanted to do.  
DJ LIFE MAG: How did you learn to DJ? 
Tay James: I started DJing at 12. My brother and all his friends were top DJs in Baltimore. I was able to get knowledge from them. My brother taught me how to blend two vinyl records together, how to blend one song into the other. Once I learned how to blend two songs, it unlocked something in my head and all I did every day was DJ. I would come home from school and just blend whatever records I had in my collection. 
DJ LIFE MAG: The D.C./Baltimore scene has always had a lot of great DJs of all stripes. Were there particular DJs you discovered from the area? 
Tay James: When I turned 14, I had an opportunity to work at a record pool called Unruly Records, which is still around in Baltimore to this day. There were a bunch of DJs from The DMV [D.C./Maryland/Virginia]: Quicksilva, Jay Claxton, rest in peace K-Swift – she was the leader of Baltimore club music, which was a huge sound in that area. All the DJs in Baltimore were signed to the record pool's label. I was interning there, working at Burger King and at Best Buy to help fund my DJ career. I got a little DJ starter pack. From there, I added to my record collection because, back then, you couldn't play a record unless you had the actual vinyl. Through the record pool, I met all the DJs in the city, all my idols, the people whose mixes I would listen to and record on tapes.  
DJ LIFE MAG: What was your first exposure to nightlife? 
Tay James: There was no YouTube, so how do you learn how to DJ? How do you learn how to do a party? How do you learn what song comes after the another? How do you learn that motion? You had to literally shadow a DJ. For me, the easiest way to get into a club at 14, 15 was carry a crate of records and sneak in through the back door, and that's what I did. I wouldn't really hang out with my high-school friends and I would go straight to a 21-and-up club and just sneak in.  
DJ LIFE MAG: Who were some of the influential DJs you were shadowing and learning from? 
Tay James: Jay Claxton – he's the first person that snuck me in. I was watching him throughout these parties. He was special. He would never drop records. He would blend throughout the whole party. The first song was at 68 BPM, and he would get to 120 BPM, straight blending. That would amaze me. He didn't drop. He barely scratched. It was all blending and controlling the mic. My mentor, DJ Alizay, he's a longtime D.C. DJ and probably the best DJ I know to date. He took me under his wing. My style is a mixture of him and the DJs I met coming up. He's the one that schooled me to the game of DJing and showed me so many different ways of mixing genres and scratching and blending. He was known for doing live blends on the radio. If you mess up on a live blend, it sounds bad; but if you hit it, it sounds amazing. I got that from him.  
DJ LIFE MAG: Was it a competitive scene, or did DJs help each other?  
Tay James: Super-competitive. There were not a lot of DJs at this time. You can just come in and be a DJ. We all had to buy equipment. Even with that, it was still saturated. As a young kid coming up, you look upon your OGs or your big brothers to get on. That's why I love Alizay.  
DJ LIFE MAG: What made him special? 
Tay James: The reason why I think he's one of the best DJs is he did a live broadcast on the radio every Friday and Saturday from 10 p.m. to 2 a.m., and every week it was a different mix. It's a live mix, so it's different each time. You don't know what you're going into. I never heard him repeat any songs in three years that he did this live broadcast. When he got off the radio, he would give me the headphones, and say, "Go mix," and he would leave. This made me more confident as a DJ. It allowed me to know how to play for older crowd. He helped me build that confidence. I became his mentee and I followed him around. I'm appreciative of that experience because without that happening, I don't think I'll be here today. 
DJ LIFE MAG: What were some of the first parties you DJed? 
Tay James: High-school parties. I got cut from the basketball team, and I started DJing the basketball games, so I had a gig every Friday. That's how you start doing things. You don't really know where it's going to take you, but you know it's all part of the game, all part of the education of DJing. By the time I was 17, I had about five crates of records.  
DJ LIFE MAG: Did you do mobiles?  
Tay James: I did. I used to carry my crates of records in a Mazda Miata, my turntables in the trunk, and my mixer right behind my seat. I had a little CD book for the songs I didn't have on vinyl. I would hire a sound guy to bring the sound. That's how you would do any gig back in the day.  
DJ LIFE MAG: How did you get into the mixtape game? 
Tay James: Everybody was doing mixtapes. There was no streaming, and a lot of times DJs got all the music first. A real pivotal moment for me was right before going to college at Hampton University. I wanted to bring a mixtape to college. I went to an open house and the DJ they had was this older guy and the only DJ on campus. I thought, "I'm going come through here and take all of this." Also, I needed to leave Baltimore because it's oversaturated with DJs. It was hard to get your own identity. Going to Hampton was a way for me to get my identity as a DJ. I came down there with 2,000 mixtapes, just for the freshman class. I passed out mixtapes throughout the whole campus.  
DJ LIFE MAG: Sounds like an auspicious start… 
Tay James: My sophomore year, I had a mixtape called "Sophomore Slump." I had Justin Timberlake featuring T.I. and Timbaland, "My Love," three weeks before anyone else had it. I put on my mixtape, filtered with a bunch of different drops from other artists, like "Hampton University's own DJ Tay James." Brand-new music, new blends, different things and dropped it before the year started. It exploded on my campus. I ended up getting 2,000 of them printed up and I started taking them to other campuses. It became a thing where I started dropping mixtapes every semester. I created a mixtape series titled "College Radio," and started having "College Radio 1" then 2, 3, 4, 5, 6.  
DJ LIFE MAG: You were giving these away free of charge? 
Tay James: Everything's free. I was sponsored by Direct Drive, the record pool I was working for. They ended up signing me as one of their DJs, so this was part of the benefit. I spent a couple of dollars, but the reward is way more than what I'm spending to get these mixtapes done. It became a thing to have a mixtape. People started hollering at me. I started making mixtapes for different school events, while still keeping up my "College Radio" ones.  
DJ LIFE MAG: That's a great way for people to get to know you and your sound. 
Tay James: At the time, you don't know exactly what you're doing or the effect it's going to have on anything, but it's going towards something. I've always been a firm believer of that. I always did things that were different than what my peers were doing. I always wanting to bring something different to the table. I had all this knowledge from being in Baltimore dealing with all these DJs and not getting the look I really wanted, but knowing that I'm special, knowing that I had some type of talent, knowing that I am good, I am nice. I just needed the space to do it.  
DJ LIFE: You also had a blog you were maintaining? 
Tay James: Yes, collegeradiomusic.com. My frat brother was my partner on the blog, and he was handling publications. I was in the music and the mixtapes.  
DJ LIFE MAG: Were you doing parties as well? 
Tay James: I was doing college parties and I was throwing a college party at Love Nightclub, which was one of the biggest clubs on the East Coast. I would drive three hours up to D.C. every weekend to do the nightclub, and then drive three hours right back down the school the same night – and go to school on Monday. 
DJ LIFE MAG: Your college experience sounds like it was a great place to get your DJing going. 
Tay James: I went down to Hampton and realized this is an open, untapped market. I could come down there and really succeed, and that's what happened. By me just being the man on campus there, it got me the opportunity to DJ D.C., which was the city I wanted to be in as a DJ. Virginia had nothing. You DJed at bingo halls and skate parks; D.C. had all the biggest clubs. Love Nightclub was huge. They started me off on the fourth floor, which is the last floor, and I worked my way down to the main floor. At the time, there were at least 130 different colleges within the DMV area. All these schools were coming down to our party. We're throwing them every Saturday, and I was the main DJ.  
DJ LIFE MAG: How did Love inform your music knowledge and improve your DJing?  
Tay James: D.C. and Baltimore are separated by an hour, yet you have two separate music scenes. You got Go-Go and live music in D.C. and Baltimore Club in Baltimore. At Love, I was able to mix both to tap in on all crowds. I was going to Hampton, so I'm getting all the new records from Atlanta and I'm bringing them up to D.C. Being able to DJ for a melting-pot scenario, so many people from so many different areas and being able to please everybody at one time is tough. People want to hear so many different things. I was on every blog site. I was on every little message board. My job was finding and downloading music because we had the blog and I had the mixtapes. It was always good to have some things first. I learned about so much different music from different areas: South, West Coast, reggae, Afrobeat. I'm learning about genres of music that I didn't know about until I got to college.  
DJ LIFE MAG: What do you think makes a great mix? 
Tay James: For me, it's always about the element of surprise. Blending records that you don't ever expect to hear together, that don't even really make sense, but makes sense when you hear them and it's dope. I took pride in always creating mixes like that where I'll take David Banner "Play" and I put Maroon 5 "This Love" over it. You like both songs, but you never heard both songs mixed together. I consider all DJs party psychologists. I can literally change your emotion when you walk into my party. That's all we're here to do, bring people together through music. That's what I strive to do 'til this day. 
DJ LIFE MAG: How did you connect with Justin Bieber in 2009? What was going on for you then? 
Tay James: I had the opportunity to DJ for some artists, and my dad made me turn them down. I was pissed off at my parents because I didn't want to go to school. I just wanted to DJ. School was just a way to make my parents happy. My dad always told me, "Finish school. The opportunity you want is going to happen right when you get out of school, just trust me." I used to hate him for it. Literally two months after I graduated college, I got a call from Scooter's [Braun, Bieber's manager] assistant. This is based off of a relationship two years before with a guy I met who dropped out of college and moved to Atlanta. He met Usher's assistant. They become friends. When Usher and Scooter got together to do to do the Bieber deal, they needed a DJ to go out with. They hit my boy up. Everyone was already doing other projects. He said, "I have the perfect guy." They called me.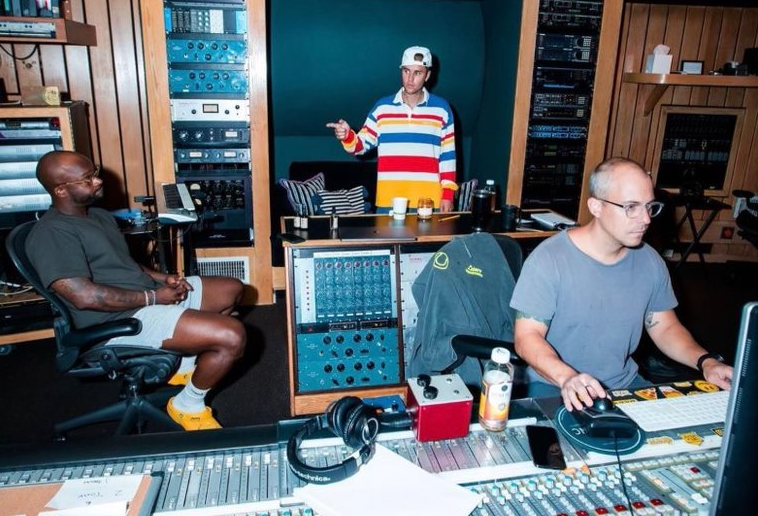 DJ LIFE MAG: And you were ready then to move onto something bigger, it seems. 
Tay James: Bieber was doing a bunch of YouTube videos, so I was already familiar with him. We already were posting about him on our blog as the next Timberlake, the next big thing to happen. It was crazy how this came full circle. They said, "We want you to come out to be his DJ, but we can't pay you at all. We can just offer you per diems." I said, "Cool, take me." I had to call my residencies and I tell them I have this opportunity, and I had to at least try it out.  
DJ LIFE MAG: How exactly were you prepared for this opportunity with Bieber? 
Tay James: With DJing, a lot of times it's not even about your talent, it's about how you are as a person. Are you a people person? Do people want to be around you? And I pride myself in that, too. I make sure that I'm very respectful. I make sure that I'm always doing my job. I make sure that I'm not being weird or any type of way and just being genuine. If you keep that first, mixed with your talent, mixed with your skills, that will be able to take you anywhere. Bieber and I clicked right away.  
DJ LIFE MAG: What was your audition process like? 
Tay James: His first show ever was my audition. I had none of the music they wanted. I wasn't a pop DJ. I didn't know nothing about pop music at all. Sean Kingston was supposed to be the headliner, but he called out, so they needed Bieber to headline his first, maybe his second big show that he's ever performed. Me and him were in the dressing room and he was like, "Let's create a setlist, bro. Let's figure it out right now." We got the songs that he wanted to use. Part of his choreography in "One Time" was the "Swag Surfin'" [song by Fast Life Yungstaz] dance. He said he wanted to use the song somehow. I put it on my laptop and I made the edit to his "One Time," so it ended as "Swag Surfin'." He was like, "Amazing, you have the sound effects?" I got that, too. This is all on Adobe Edition and GarageBand. We went out there, did the show. It was incredible. This was July 2009, by the time December hits, he's a pop star. That's how quick it was.  
DJ LIFE MAG: How did you start A&Ring for Bieber? 
Tay James: I started before Purpose came out [in 2015]. Any of the records on Purpose I'm responsible for, I found the beat or found the producer that made that beat. I didn't get any credit for it, which, at the end of the day, is my fault. But it was my first experience. I have that on Journals and I have that on Purpose. I had one song on Changes that I was responsible for. Bieber is the reason why I got tapped in to make it a formal role after Changes, for Justice, the pop project. He trusted my ear. He always has. This is after years of us touring.  
DJ LIFE MAG: How does the A&R process work with Bieber? 
Tay James: I started making beat packs. I will put 25 beats in a pack. He's going to like at least five or six of them. He will either write something to it or start an idea, or ask me to send it to a songwriter that he's working with to see if they can write something to it. I'm on beat pack 30 right now.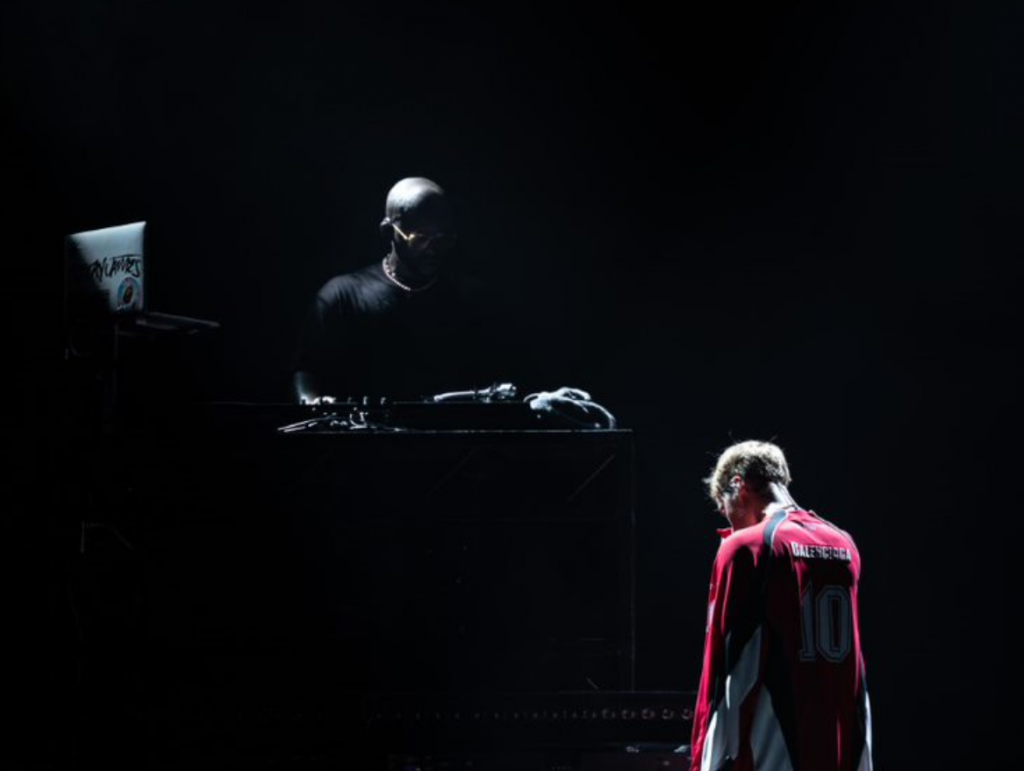 DJ LIFE MAG: How does your DJing inform your A&R role? 
Tay James: Being a DJ came to play because I've made connections with producers throughout the years. Now I'm able to tap into these relationships. And I was already connected with DJs from around the world, so I'm able to tap in and be able to be like, what's the hype? What's the hot music over there? I listen to what the hot music might be in London or in Germany or in Japan or in Australia. Who produced that? Let me reach out to that producer and now I'm connected with that producer. I look at being an A&R like making a big mixtape. How do we push the culture forward with the sounds we are using? We can't be like anyone else. We have to be different. Bieber has always been the person that was innovative. He is always using new music, new sounds. We got to keep that going. 
DJ LIFE MAG: How does your A&R role fit in with other members of Bieber's team? 
Tay James: [Braun] connected me with Skrillex. I started going to Skrillex's studio and hanging out and becoming friends. That turns into "Don't Go," Skrillex single, and that turns into "Somebody" on the album, that turns into "2 Much" on the album. This is us coming together and being genuine. I don't want to take from you. I want to learn from you. And that's kind of how I use all these relationships. Harv [aka Bernard Harvey], who produced "Peaches" and "Somebody" and a few other records on Justice, is one of my best friends. We've been part of Justin's bands for 10-plus years. Some of these bigger songwriters and producers, I didn't really have. I could tag him on whatever I need. People will bring me the opportunities. It's all about what you do with opportunity after you get it.   
DJ LIFE MAG: How are you working alongside Josh Gudwin, who is both Bieber's vocal producer and executive producer? 
Tay James: He literally schooled me to the game. He's a mentor when it comes to A&R. He basically was doing all of that for Bieber. Everything is in-house. Bieber doesn't use his A&R at the label [Def Jam]. It's always been like that. [Gudwin] had all the Rolodex because everybody's been sending him music for the longest. As his workload became a lot, he needed my help. When I got the job, he connected me with songwriters that Bieber has worked with in the past and that really helped me. He told me to listen to more melodic things. Early on, there would be a song that I felt was really good and he would tell me it's not a hit. That would really make me question and realize, I have to listen for certain elements. It's like a math problem. Two plus two equals four. That's how a hit record works or how good records would work. Let me reach out to a songwriter that I know we like – Poo Bear, or Allday, or Jon Bellion – see what they have. Let me send these to Justin and see if any of these records mess with him. 
DJ LIFE MAG: What were some of your key A&R moments on Justice? 
Tay James: One of the main points of being a DJ is not just about playing music, it's also about connecting the vibes. My cousin put me onto The Kid LAROI a long time ago, me putting Giveon on music, the WizKid "Essence" remix. That "Essence" remix is such a treat because it was literally a weekend. Bieber wrote the verse himself, cut it on Monday. That record is the first Afrobeat record in the Top 10 Billboard Hot 200, ever. This is all a DJ making these plays. A DJ can be more than just that guy in the club that just plays music. You can be tapped to do so much more. Bieber challenges me when it comes to music. I'm challenged to go find something that he likes real quick. That makes me get in my bag and reach out to a bunch of different people and open up my laptop and make sure I go through some stuff that I know he hasn't heard. I've sent him over 1,000 beats. He wants more. He challenges me to just be better in that regard as well – and I like it. 
DJ LIFE MAG: People don't realize how involved Bieber is in the music he does. 
Tay James: I remember him playing "Stay" for us. This is after us playing basketball. We're all hanging out. I remember Bieber saying, "This is the hit." He knew what it was when he first heard it. He had that already in his head. He's the one running the play. And that's why, even now he's so next-level. We're just trying to push the culture forward. 
DJ LIFE MAG: How much would you say DJs and DJ-driven music has influenced Bieber over the years? 
Tay James: I'm a firm believer that one of the reasons why everything's working is the fact that he has a DJ. That's a missing part for a lot of these big artists. The fact that I'm actively still a DJ, I hold down residencies and I DJ every big club in the world, I've done every room that any other DJ has done, I'm connected to all DJs, that's my benefit to this team. There are so many different sounds on those beat packs. Out of that, you hear some new stuff. That's all we've been trying to do, pushing the envelope. We're in the people business, bringing people together. That's all we're trying to do. That's the music we make. 
DJ LIFE MAG: Do you produce yourself? 
Tay James: No, I haven't gotten into that. Sometimes I tell producers to send me a loop and we'll make the beat later around that loop. I can get a loop and I can sit with a producer and say the delay should come in like this. I can hear a drum loop and say we should add some chords to this. That's the extent of production I do. But I know what sounds good. And I know the BPM to any song or any beats by just listening. That's my DJ ear.  
DJ LIFE MAG: Besides working with Bieber, you are still DJing regularly. How do your sets differ from playing in his band to your Las Vegas residencies to one-off gigs? 
Tay James: I approach everything based on the room I'm in or the city I'm in. Before streaming, there was at least a six-to-eight-month gap for music. A song that was hot in the United States, in the U.K. or Europe or Australia, they're not listening to it yet. I had to link up with a DJ from the area and ask what they were playing there. Then taking that knowledge and mixing it with my own sound, and that's how you make parties unique and different.  
Vegas is high-energy music and that's why I love being open-format because I can play everything, I don't have to be stuck to one genre. They're hired me to do me – and I'm party-rocking.  
DJ LIFE MAG: You're a resident at Zouk Nightclub in Vegas… 
Tay James: I just did a gig with Tiësto. I feel like people probably expected me to play all EDM. I'm going to still be my expression of high energy, and then you're going to have a great show from Tiësto. But that mix could change. I could come into my Vegas residency and they want to hear mostly EDM. I'm going to start off with mad EDM and then I might add some other flavors to it. It just really depends on what the crowd is vibing off of when I walk in. A lot of times I like to listen to what the DJ is playing before me just to see what's going on. At the end of the day, it's crowd control. If I'm at a random spot like Little Sister in New York, a smaller spot, but it's one of the most exclusive, I'm not playing crazy EDM in here. I'm playing dope New York cuts. I'm doing remixes. I'm doing blends. I'm more in my DJ bag in that way. I'm scratching a little bit more because that's the culture of New York. Being able to tap into the scene and adding your flavor to that scene. 
DJ LIFE MAG: What's been your DJ-gear evolution? 
Tay James: I was there when Serato came around and changed the game. I still use Serato and djay Pro from algoriddim. It's an app you can use on an iPad or on your laptop. It is next-level. You can DJ off of Spotify titles and streaming programs. On top of that, you can make your own stems of every song. I can take a record, put it up on this program and make it a cappella by one click, or make it an instrumental, or I can take the drums off and the words out and just hear the chords. You can record it, too. If I want to make something exclusive, I do it on that. But as far as in the club, I'm still Serato and a Pioneer mixer. 
DJ LIFE: What has been the most important DJ technology improvement in recent years?  
Tay James: For me, djay Pro, especially for an a cappella I know I can't find, that's been really helpful. Being able with plug directly into a mixer instead of having to plug up a box. Back in the day, having a box when you're using Serato was a thing. The box itself was expensive. Technology-wise, still to this day, the best thing is Serato. It made everything simpler being able to have all your music in one place. Instead of me clonking around six crates of records, being able to pull up with a laptop is still the best technology there is. It changed DJing. The reason I like Serato is because I still feel like I'm digging through the crates. I don't have set playlists for my gigs. I don't know what I'm going to play. I walk in there, and I go off song one. Song one is going to lead me to song two, three, four, five, six seven because I'm thinking of 10 records ahead. That's the rule of DJing. With Serato, I'm thinking about it. With the USB, you're confined to how much space is on that USB. 
DJ LIFE MAG: Are you surprised that the DJ culture has grown to the extent that it has? 
Tay James: No. Everybody wants to be a DJ somewhere deep down inside. Everybody wants to create that playlist and have their friends like their flavors. My dad had such a massive record collection, and he would make mixtapes for his friends, and that stuck with me. That's a form of DJing. Back in the day, it was expensive to be a DJ. That's part of the reason why no one dived down that road. To get a pair of Technics, that's $500 apiece. What 13-year-old has $500 to get that equipment? That's the dedication you had to have. I worked two jobs to pay for my DJ career, to pay for turntables, to pay for my speakers, headphones, records, all the equipment to be a mobile DJ. The $200 for the sound guy. With technology now and everything being ramped up, I think it's great. The whole point of being a DJ is not keeping the culture away. You're supposed to promote the culture. Anybody who wants to be a DJ, I want them to. I want them to learn the craft. I want them to really get down and get in tune with music.  
DJ LIFE MAG: What advice would you give up-and-coming DJs? 
Tay James: It's about the music. It's about bringing people together through the love of music, through the connection that music draws. There are people who don't believe in anything, but they believe in music. I always tell people start with the music. Find the genre of music that you like and dive deep in that. It is time and preparation. The road less traveled is not always the one that people like to go down, but that's what it is to be a DJ. 
To check out more interviews, click here.