With the world coming to a complete halt back in March 2020, the DJ community was left with plenty of free time on its hands, as club and festival dates got wiped away.  
Of course, everyone handed the global lockdowns differently. Some took time to recharge their batteries and others began to pivot by spinning live-stream sets or diving into their preferred DAW. Canadian DJ/producer Nostalgix did a little bit of both. 
Already considered a promising talent with releases on esteemed imprints like Tchami's Confession and AC Slater's Night Bass, the Vancouver native – aka Negar Hamidzadeh, 24 – delivered a number of live-stream sets and spent a majority of her time working on new music, looking to hit the ground running whenever the world welcomed live performances again. Well, after making some serious waves throughout a chaotic 15 months, Nostalgix made her U.S. festival debut at San Bernardino's HARD Summer festival this past July 31, and we tagged along to witness her big moment live. 
The Gig: Arriving at the NOS Events Center around 1 p.m., Nostalgix headed straight to her artist trailer to work on some last-minute tweaks to her set, while trying to stay cool in the triple-digit temperatures.  
Kicking the crew out for a quick outfit change and catching a shuttle over to the HARD Stage, she stepped behind the decks at 3:30 while festival-goers continued to pile in, refusing to miss out on any of the action even in the sweltering heat. 
Looking to make quite a first impression, Nostalgix unleashed some blistering beats with BROHUG's "London Thing," Nonsens' "Make It Pop," Good Times Ahead's "So Good," and many more. 
In addition to proving to be a stellar selector, she showcased quite a bit of her discography, rinsing out her originals "Realest," "Bassline Drip," "Black Mirror," and "Act Out," in addition to her recent single, "Friends" featuring AMY MIYÚ. 
In the end, Nostalgix lit up the HARD stage with a steady barrage of banging house that got the audience bouncing up and down. With all the excitement, it seemed like the quickest 60 minutes in festival history, but her U.S. festival debut ended in triumph.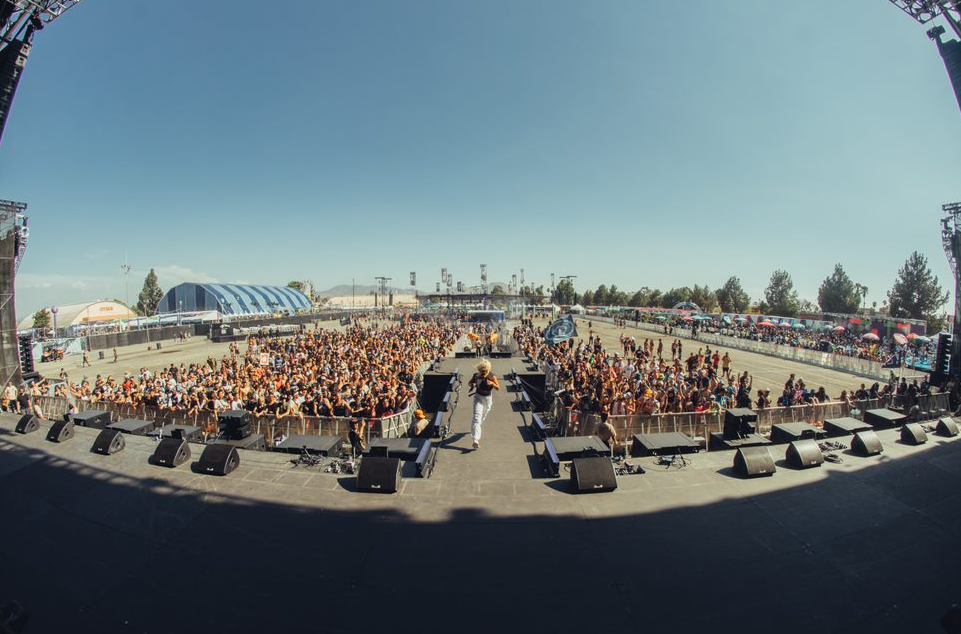 Next: However, that wasn't the last that HARD Summer fans would see of her, as she performed a set at Corona Electric Beach later that day. Lucky for Nostalgix, that stage is always a next-level party atmosphere where DJs can steer away from their "traditional" sets. After another outfit change, she did just that, leaving those in attendance both sweaty and sandy.  
Finally, having some time to unwind, she connected with a number of familiar faces and soaked up the festival atmosphere in her new home of Los Angeles. Of course, we then got a chance to more deeply connect with Nostalgix. 
When did you decide to start producing? 
When I was going into my final year of high school in 2014, one of my friends said, "Hey, let's go to this rave." Hardwell was performing at the Pacific Coliseum in Vancouver, and two of my good friends were going. I'd never been to a big show, and had no idea what a rave or electronic music even was. But, I decided it would be fun to go. I went, and that night absolutely changed my entire life. After that, I tried to see as many artists as I could and started going to a bunch of events. From there, I became a promoter in Vancouver, while I was still in high school. I would host underage club nights and book out clubs and either throw big parties or sell tickets. Then a year after that, when I started university, I decided I wanted to learn the art of DJing. I was DJing a lot for fun at the time and I got to play at all of my favorite venues in Vancouver. Every show and every night just made me fall more and more in love with what I was doing. In 2016, I decided I wanted to really go after my dream and start learning music production. 
Which artists influenced or inspired you most?  
Some of my biggest influences early on were Tchami, Jauz, AC Slater, Dr. Fresch, BIJOU, Alison Wonderland and Zeds Dead. I absolutely loved the energy of all of these artists; they made me fall in love with the world of electronic music and really inspired me to start producing. For me, it's all about the energy and the music. All these artists are constantly making such incredible and unique records that I really look up to… not to mention that they're all really cool people as well, which is even more inspiring. 
How did you fall in love with house music?  
In 2016, I saw Dr. Fresch performing at Life In Colour in Vancouver. I didn't know who he was at the time, but when I saw him, it blew my mind. I'd never experienced such a cool party or such incredible energy like that before. It was my first time hearing a bass-house set and I fell in love. He was having so much fun on the decks and living his best life, throwing down the sickest beats. It got me hooked. I went home and, from the very next day, I started teaching myself music production. I have never looked back since. 
What's your studio set-up? 
I recently just moved to Los Angeles from Vancouver. So, I haven't been able to set up a proper studio since I'm on the road a lot these days. For the time being, my studio set-up consists of my laptop with Ableton, and my headphones. It gets the job done and it keeps me happy. Really going back to my roots right now… 
What's on tap for you in 2021 and beyond?  
Nostalgix has a lot in store for the rest of 2021. I'm doing a big tour around the U.S. and Canada. Got a lot of incredible festival performances coming up, including at EDC Orlando, Beyond Wonderland at The Gorge, Family Reunion, ÎLESONIQ Redux and more. I'm also performing some shows with Deadbeats on The Revival Tour. Outside of touring, I'll be dropping some very meaningful records later in the year. Lots to look forward to, so many amazing things coming and I'm grateful and excited for all of it! Be on the lookout, 'cause it's gonna be next level! 
To check out more interviews, click here.